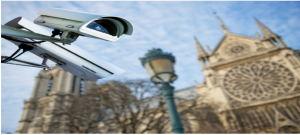 No matter how safe you think that church premises are, incidents like assaults, shootings, bombings, armed robberies are reported to have occurred in the past few years at various places of worship.   As per the National Incident-Based Reporting System (NIBRS), about 480 incidents of serious violence at places of worship in the U.S. each year occur and these incidents lead to about 46 deaths and 218 serious injuries annually. This is a grave concern for church authorities.  So, If you are in charge of a church security management and haven't' encountered any such violent incidents till now then consider yourself to be extremely fortunate. But, presuming that it won't ever occur at your church premise can be grievous.  It is better to take precautionary measures by hiring professional security protection to prevent dangers from occurring.
When we talk about professional church security services, there is one and only security guard company in San Clemente & Dana Point, CA that you can put your trust in and which is Access Patrol Services (APS).
APS has a specialized team of church security guards. These guards are specially trained to protect churches from all kinds of threats. The church security guards are aware of the risk associated with a church premise and thus take necessary steps to abate the same. Moreover, during Christmas, since churches have heavy footfall, convicts try to take advantage of the situation of such large gatherings. APS guards stay highly alert and cautious during those times of the year to ensure complete safety. The guards also help to maintain the decorum of the church premise. They enforce all the rules and regulations of the church premise to the visitors to maintain peace and order.  Besides, APS allocates all types of security guards such as armed, unarmed, static and mobile guards to the church premise for complete safety. Most importantly, APS's specialists primarily visit the assigned church premise to understand the layout of the premise and critical points of the church premise and then only craft a robust security plan for providing accurate security solutions.
The fact is APS holds 26 years of experience in the security service domain and thus has the expertise to provide top-class security protection to churches.
Plus, the church security guards of APS are provided with many security gadgets such as CCTV cameras, radio transmitters, scanning machines, metal detectors, automatic sanitisers, GPS monitoring systems, infrared thermometers for rendering quality security services to churches. Therefore, if you are in search of a professional security guard company in San Clemente & Dana Point, CA for highly professional church security services, then you can get in touch with us ASAP.
Contact Access Patrol Services at 866-770-0004 with questions about security guard duties, responsibilities and functions for commercial office properties in California and Arizona or click on https://accesspatrolservice.com