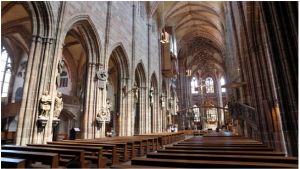 Churches usually are regarded as the safest place to visit. People visit churches to pray and seek blessings. But, unfortunately, at present, churches aren't safe anymore.   Crime numbers are surging on these premises obnoxiously due to a lack of resilient security measures or proper security management.  Convicts are effortlessly committing crimes without the fear of getting caught.  Hence, to secure these premises, it is important to arrange for strict security measures to maintain the humility of these premises.
One such company that offers flawless professional security service is Access Patrol Services (APS). It is a security guard company in Lake Balboa & Encino, CA that provides professionally trained church security guards to secure church premises. To ensure the guards are able to maintain safety and security as well as the decorum of the premise, rigorous training sessions are conducted for them.  Some of the training programs of the church security guards in Lake Balboa & Encino, CA consist of crowd control management, intellectual development program, rapid decision-making programs, power drills, first responder awareness programs, and many more. Hence, our guards have the ability to tackle any uncertain situation with utmost proficiency. They carry out patrolling frequently and stay vigilant to abate suspicious activities that may threaten the safety of the church premise. Besides, they keep proper vigilance on each and every visitor to maintain the modesty of the premise. Honestly, our security guards are not only robust but also sensible and can provide strong security support to secure churches from uncertain dangers.
Most notably, APS carries a colossal amount of experience of more than 26 years in the security service domain. Hence, APS has the ability to secure any premise by providing accurate security solutions. Moreover, our church security guards are provided with space-age gadgets such as CCTV cameras, GPS monitoring systems, radio transmitters, flashlights, scanning machines, metal detectors, and so on.  These help the guards to provide errorless security service to assigned churches. Besides, before rendering services, a solid security plan is chalked out to identify all the critical areas of the church premise and thereafter we position or allocate our guards for absolute security protection of these premises.
Also, APS offers church authorities the opportunity to alter or pick security features as per their suitability. Therefore, if you are looking for a robust security guard company in Lake Balboa & Encino, CA then, contact APS for the same.
Contact Access Patrol Services at 866-770-0004 with questions about security guard duties, responsibilities and functions for commercial office properties in California and Arizona or click on https://accesspatrolservice.com