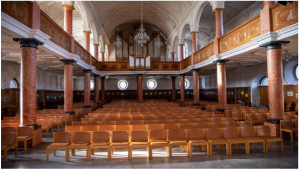 Churches are sensitive, sacred, and quiet places. We all visit churches to pray and seek blessings. But at present, even these holy places are targeted by convicts for extortion, thefts, vandalism, etc.  So, it is extremely essential to protect these sacred places by employing professional security guards from a reliable security guard company like Access Patrol Services (APS).
We, APS are considered as one of the most reliable security companies in Orlando, FL that offers highly professional security potation to churches or places of worship. With over 26 years of experience in this field, we are proficient in addressing complex security needs of churches. We only deploy BSIS licensed security guards to churches. Besides, we specially train our church security guards to ensure they can strictly enforce church guidelines to all visitors. Besides, many other training sessions such as crowd control management, rapid decision-making programs, intellectual development programs, first responder awareness programs, and power drills are conducted for the guards to boost their skills. Hence, our church security guards  in Orlando, FL not only possess the ability to maintain the decorum of the church premise but also are able to take robust steps to prevent crimes from occurring. church security guards in Orlando FL
Our guards posses high integrity and take responsibility for their actions. They consistently patrol the church premise to discard all sorts of suspicious activities. We do understand that each and every church are dissimilar to each other and hence we design security plan based on the assigned church premise and don't rely on a predetermined security plan. The plan is chalked out keeping all the critical or sensitive spots of the churches to provide absolute security cover to the place.
Another important aspect of our organization is we are a highly tech-driven firm and so many advanced technologies such as RFID tags, GPS monitoring systems, radio transmitters, CCTV cameras, metal detectors, scanning machines, flashlights, cloud software, mobile devices, infra-red thermometer, automatic sanitizers, and other latest gadgets are used by our guards for providing flawless protection. Also, APS offers round the clock service facility to provide maximum protection.
Therefore, APS is undoubtedly one of the top reliable security companies in Orlando, FL that you can rely on for absolute protection.
Contact Access Patrol Services at 866-770-0004 with questions about security guard duties, responsibilities and functions for commercial office properties in California and Arizona or click on https://accesspatrolservice.com