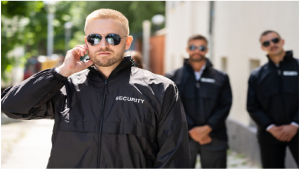 It is undeniable that presently crime rate is spawning fiercely. Even places of worship such as churches, temples, and synagogues are also targeted for all kinds of threats including vandalism, thefts, murders, extortions, etc. Hence, escalating security service is the need of the hour to secure these sacred places from uncertain dangers.
It is also a fact, that there are myriad security companies that are present in the market, but seeking an authentic one to avail of proper security service is a challenging task. For this reason, it is fundamental to trust a veteran security company in Placerville & Rio Linda, CA – Access Patrol Services (APS) to procure top-quality church security service.
We, APS have a considerable amount of experience of more than 26 years in the security domain. And owing to such enormous experience, we have the aptitude to secure all types of properties/ premises including places of worship.  We procure top-quality security guards who are BSIS certified. Besides, from time to time these guards are trained to keep their efficiency level intact.  The training session includes crowd control management, intellectual enhancement programs power drills, first responder awareness programs, and many more. As a result, our guards have the aptitude to make fast decisions and can detect approaching dangers.
Most importantly, our guards are responsible protectors and strive to secure assigned sites with all their might. They are committed to meeting the immediate concerns of the premise and ensuring the decorum and modesty of the place are maintained at all costs. They keep a thorough check on all the visitors of the church and make sure that they abide by the rules and regulations of the church guidelines.  However, if the guards notice any wary activities inside the church premise, they don't refrain to take robust action to defuse the chaos or danger from happening.  The guards also frequently patrol the entire perimeter of the church to abate mistrustful activities.
Plus, to ensure seamless and errorless security service delivery, usage of many space-age technologies such as CCTV cameras, GPS monitoring systems, radio transmitters, cloud devices,  scanning machines, metal detectors, automatic sanitizers, infra-red thermometers are used by our guards.
Therefore, if you are in search of a professional and a veteran security company in Placerville & Rio Linda, CA for top-quality church security service company in Placerville & Rio Linda, CA, then you can get in touch with us ASAP. We also offer personalization facilities to the church authorities to ensure all their needs and preferences are met.
Contact Access Patrol Services at 866-770-0004 with questions about security guard duties, responsibilities and functions for commercial office properties in California and Arizona or click on https://accesspatrolservice.com