Church Security Shaken: Vandals Hit San Juan Capistrano Church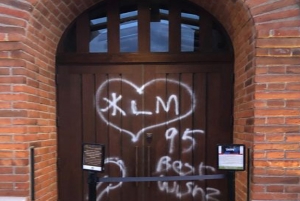 (Credit: Mission San Juan Capistrano, Facebook)
Sadly, even during the holiday season, churches and other houses of worship are not immune from vandals. Recently, criminals tagged a large wooden door of the 244-year-old Mission San Juan Capistrano in Orange County—a church that dates back to 1776 and the Franciscan Order of missionaries. It's the latest example of churches being targeted by criminals and where church security is shaken–and it's why more houses of worship are beefing up security with the use of security guards and cameras.
Church Protection.  Churches, mosques, temples and synagogues have been the targets of everything from tagging to horrendous crimes. Criminal acts at these sacred sites has been increasing. Religious leaders are incorporating security in their day-to-day operating plans.
Security Guards. House of worship security guards can work around the clock or during specific times—overnight hours (when graffiti and other vandalism is most likely to take place), during meetings or services (where violence can occur) or during special events such as funerals and weddings.
Guards patrol the perimeter of the grounds. They also can be stationed at entrances and exits to monitor who comes and goes. Experienced house of worship security guards such as those at Access Patrol Services, use good judgment and people skills so congregations feel comfortable with their presence. Guards know that parishioners in pews are vulnerable if violence should erupt so prevention is key.
Security Cameras. While there is no substitute for in-person security guards, a 24/7 security camera monitoring service can catch vandals in the act. If security staff sees a crime taking place on the camera feed, they can immediately contact the police and hopefully prevent serious damage.
We live in unsettling times where even religious institutions are subject to crime. Contact Access Patrol Services at 866-770-0004 with questions about house of worship security in San Juan Capistrano, Orange County and throughout California and Arizona or click on https://accesspatrolservice.com.