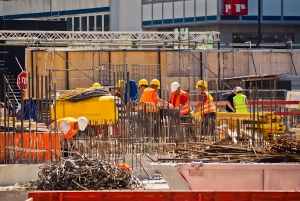 U.S. commercial construction is a $230 billion-a-year industry. Unfortunately, according to the National Insurance Crime Bureau (NICB), losses from construction and farm equipment theft are estimated to be between $300 million and $1 billion annually. Besides equipment, thieves steal such items as copper wire, tools, generators and batteries. A strong security guard presence can stop much of the theft.
NICB Tips. The NICB provides tips on how to reduce equipment theft. While these tips are important to follow, nothing can replace a security plan that includes onsite guards.
Guards are assigned to walk the perimeter, monitor all those entering and leaving and securing the site after hours when most thefts occur. Their goal is to prevent vandalism and to ensure that nothing leaves the site without prior authorization.
Crime in general is on the rise. Organized crime rings are targeting construction sites because of the perceived lack of security. Contact a security guard company, such as Access Patrol Services, that has construction site security experience for assistance. APS will evaluate current security measures and offer suggestions.
For more information about construction site security guard services in California and Arizona, call Access Patrol Services at 866-770-0004 or click on https://accesspatrolservice.com.