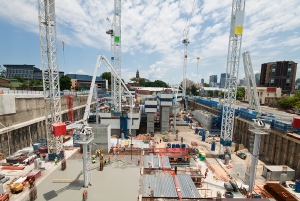 Construction is booming.  Manufacturing, commercial, communication and healthcare construction are leading the way throughout California and Arizona. These construction sites attract thieves looking for equipment and materials that can be sold quickly. Site managers are adding security guards to keep thieves and vandals away.
A Security Plan. Each site, whether large or small, needs a security plan.  A security guard company such as Access Patrol Services sends a team to the site to examine and review current security measures. It then develops a custom security plan.
A security plan includes securing the perimeter, installing optimal lighting at key locations, installing security cameras with 24/7 monitoring and adding security guard services. Guards not only keep criminals out but monitor vehicles coming and going to ensure items are not leaving the property illegally.
Access Patrol Services has more than 25 years in the security business. It provides fully licensed armed and unarmed guards and is insured and bonded for up to $1 million. For more information about construction site security services in California and Arizona, call Access Patrol Services at 866-770-0004 or click on https://accesspatrolservice.com.