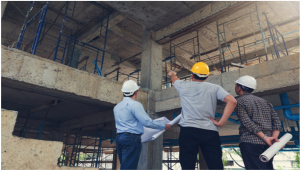 Would you ever start construction of a building unless the foundation is laid? Similarly, a construction site should only be inaugurated with an effective strategy to safeguard the machinery, supplies, labourers, and visitors. Employing competent security services to protect the site's integrity will help you focus on your project's success.
Are you worried about the safety of your construction site? Then, you have come to the right place. Access Patrol Services offers Affordable Construction security in Chino Hills.
Why do you need construction site security guards?
Avoid Accidents and Crime
It goes without saying that construction sites are risky. Anybody who is visiting or working on a construction site stands the risk of getting hurt or perhaps causing it.
Construction site security staff are trained to detect potential hazards, come up with solutions, and deter trespassers from entering restricted areas. You can establish strict guidelines to reduce accidents and prevent illicit behaviour with their assistance.
Protect Equipment, Materials, And Workers
There are numerous things to keep an eye on at a construction site. Whether you're creating a posh apartment complex or a cluster of single-family buildings in a brand-new residential area, keeping track of everything sometimes gets intimidating. Construction site security guards ensure valuables are always in order and appropriately locked up at the end of each working day.
Your team's ability to concentrate on completing the task will be improved by keeping the job site protected from intruders and monitoring any problems.
Reduces Your Liabilities
The risk of potential liabilities is reduced another significant advantage of employing construction security guards. You and your business could be held liable for any losses the employee suffers if they suffer an injury or illness while working on your construction project. Security personnel can keep watch and ensure that staff members stay out of potentially hazardous situations. What's more… Some insurance providers even provide discounts to customers who hire security guards with proper training.
Address Workplace Disputes
Security personnel could defuse any conflict or issue amongst your employees and ensure everyone is safe. This will not only keep everyone on the timeline and maintain the completion date of your project, but it will also ensure that no assets are harmed during the conflict.
Get Affordable Construction security in Chino Hills at Access Patrol Services.
Our team is prepared to respond to emergencies and has the training and expertise to assess whether a particular circumstance could be risky for your workforce.
Give us a call at 866-770-0004 with your questions. For more details, click on https://accesspatrolservice.com.