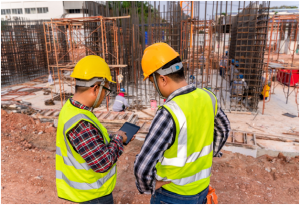 The amount of security required on construction sites varies greatly depending on the project. Since every construction site will be unique, careful consideration and planning are required. Some of the frequent threats relating to construction sites include theft of tools or equipment, fuel theft, theft of materials from the site or off-site project storage areas, vandalism, and arson. In addition to this, construction sites may also be vulnerable to the following threats:
Intentional and inadvertent trespassers
Robberies or physical attacks against construction workers;
An investigation of the area by outsider or crooks to learn more about any current or completed projects or buildings;
Computer hacking attempts or manipulation with CCTV security systems;
Demonstrators (whether related to site activity or just for publicity);
In order to eliminate risks, it is crucial to obtain strong construction site security protection.
One of the most reliable security firms in Aliso Viejo & Laguna Hills, CA, Access Patrol Services (APS) provides precise security solutions for building projects. Due to its expertise and effective client security solutions, the company has been able to maintain a high degree of reputation in the market. The business has been a leader in the security industry for over 26 years, giving it extensive exposure to the numerous security risks connected with building sites.  All of the guards the company recruited have BSIS certification. To keep the guards adaptable and tough, regular training sessions are also scheduled for them.
Metal detectors, CCTV cameras, flashlights, GPS monitoring systems, radio transmitters, and other cutting-edge tools are among the modern equipment that the guards have access to.  The initial site security assessment is carried out by our security specialist or the construction site security manager, who considers the following crucial factors:
Project location: Particular risks associated with the project area
Project type: The nature of the project
Site-Specific Exposures: Is the risk of intrusion or arson impacted by the site's location? area socioeconomic profile, including crime statistics and types of crimes.
Therefore, if you are sercahing for one of the most reliable security firms in Aliso Viejo & Laguna Hills, CA, APS should be contacted. Because APS only employs qualified and certified security professionals, your project will be in good hands and receive strong construction site security protection. Needless to mention, APS also offer round the clock security facility and customization option.
Contact Access Patrol Services at 866-770-0004 with questions about security guard duties, responsibilities and functions for commercial office properties in California and Arizona or click on https://accesspatrolservice.com