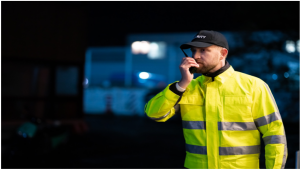 The ultimate objective of construction site security in Casita Springs is to keep workers, visitors, equipment, supplies, and the surrounding area safe. Therefore, you should include loss prevention, asset protection, and public safety in your security solutions.
A construction site that does not have access control is an enticing place for robbers and loiterers to execute illegal activities. Vandalism isn't the only issue in that scenario—trespassers risk life-threatening injuries if they misuse tools and equipment, trip over an edge, or mess with electrical wiring.
Tips to improve construction site security in Casita Springs
Every construction site is unique, and faces one-of a -kind security challenges. However, you can protect it by adopting a multifaceted approach to construction site security. For example, you can put numerous systems in place outside the perimeter of your building to prevent crime (or help identify those who commit it), keep an eye on employee safety procedures, and even lower your insurance costs. In addition, numerous security measures deter thieves from even starting a crime in the first place, as they know they will be caught.
Fences around boundaries
Opportunistic crimes are common on construction sites. A fence is a strong deterrent since it prevents would-be burglars from quickly grabbing something and running away. Maintain a specified distance between machinery, materials, and the fence, and put warning and no trespassing signs. It's an easy strategy that should be utilised along with other safety measures.
Security guards at construction sites
Armed or unarmed security guards at a construction site can help dissuade criminal activity, or they may be able to prevent a crime before it does significant harm. During business hours, your construction site security guard can assist with access control to the site to ensure that only authorised guests and contractors are permitted in.
Surveillance cameras
There are many uses for video surveillance. To begin with, having cameras deters crime. The second benefit of video evidence is that it can be used to apprehend thieves and vandals who commit crimes even with cameras.
Your video surveillance system assists you in keeping an eye on workplace security to stop employee theft and ensure everyone is adhering to safety rules. It works well for stopping losses and handling any litigation or liabilities resulting from harm or illegal activities. A qualified security company should install the cameras on your building site to ensure that the entire area can be observed.
Contact Access Patrol Services at 866-770-0004. For more details, click on https://accesspatrolservice.com.