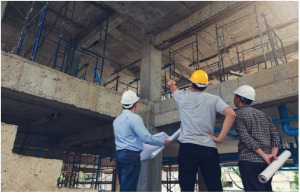 Construction sites contain numerous expensive materials such as copper, power tools, pieces of lumber and many more and so, convicts find these places greatly lucrative to carry out thefts. Also, numerous reports revealed that construction sites are immensely prone to crimes also due to the involvement of employees and laborers in carrying out such crimes. Therefore, it is of utmost necessity to provide absolute security protection to these premises.
Our company, Access Patrol Services (APS) is a well-known security guard company in Perris & Menifee, CA that offer top quality BSIS professional security guards to provide absolute protection to all sizes of construction projects. Besides, due to our rich experience of more than 25 years, we are capable of providing accurate security service to even the most complicated construction sites.
Honestly, we are a highly process-driven firm. Thus, we send our security specialist to analyze the site and to identify all the critical spots to ensure errorless security service delivery. Besides, our specialists also carry out risk assessment process to understand the exact security needs of the site. Once all these processes are completed, a robust security plan is formulated to meet exact security needs of the site.  We also ensure that the site must have the right blend of armed, unarmed, mixed and static security guards to handle all types of critical situations. Therefore, if you hire us, then you can be assured that only quality service will be delivered to your site.
Our security guards perform frequent patrolling of the construction site to discard all sorts of suspicious activities.  And, if they notice anything unusual activity on-site, they immediately take action to defuse the same.  Also, our guards use numerous advanced gadgets such as CCTV cameras, radio transmitters, metal detectors, scanning machines, automatic sanitizers, infrared thermometers, flashlights, and alarm devices etc, for seamless and errorless construction site security in Perris & Menifee, CA service delivery.
Most importantly, we employ only BSIS certified, experienced, and dedicated security guards in our organization. Plus, we provide them training at regular intervals to keep them professional and active. The training sessions have power drills, rapid decision-making programs, instinctual development programs and many more. Therefore, our security guards for construction sites are highly skilled to carry out their responsibility diligently.
Therefore, if you are looking for a well-known security guard company in Perris & Menifee, CA for construction site security, then gets in touch with us immediately. We also provide a customization facility to the developer so that they can choose security specifications as per their needs and preferences.
Contact Access Patrol Services at 866-770-0004 with questions about security guard duties, responsibilities and functions for commercial office properties in California and Arizona or click on https://accesspatrolservice.com