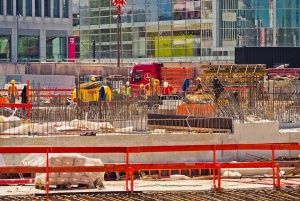 Thieves take as much as $1 billion in property from construction sites each year. Construction site security guards are one way to cut down on theft.
What Thieves Take. According to Great American Insurance Company, the most common items that thieves target are copper wire and scrap metal, tools, generators, doors and windows, plumbing supplies and fixtures, loaders, backhoes and bobcats. During working hours, it's hard to keep track of who is coming and going from the site. Someone entering can often steal items without anyone noticing. During after-hours, sites are often not properly secured and expensive equipment is left unattended. Thieves can easily enter, take items and leave without anyone noticing.
Construction Site Security Measures. Construction companies are hiring security guards to monitor who is entering and leaving the construction site. Vehicles leaving the site are inspected to ensure no unauthorized equipment or materials are inside. Guards also walk the site, especially in areas where employees have access to items that could be easily stolen. During off hours, guards patrol the site perimeter, making sure no one enters.
Other security measures include around-the-clock security camera monitoring, adding nighttime lighting, installing anti-theft devices to machinery and thorough background checks for all employees.
Construction sites will always be targeted–they are just too tempting for thieves. Find out how to help reduce crime on your construction site by contacting Access Patrol Services at 866-770-0004 with questions about our guard services in California and Arizona or by clicking https://accesspatrolservice.com.