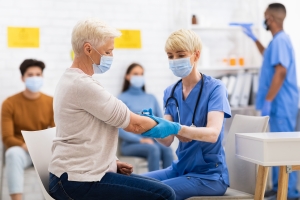 For rolling out COVID -19 vaccines, private security guards are now extensively in demand. However, only trained and professional security guards can ensure faster and safer distribution of the vaccines. Besides, robust security guards are also vital in vaccine distribution centers so that disorder, confusion and chaos are avoided at all cost. The fact is government is highly banking on private security guards for this sensitive task. And, now private security companies are regarded as an integral part for this operation.
We, Access Patrol Service (APS) are a highly professional security guard company in Rosemead & San Gabriel, CA that has an army of trained and professional security guards who can ensure safe distribution of COVID- 19 vaccines. All our guards are BSIS certified and hence no uncertified guards are employed in our organization. Therefore, you can be rest assured that the service quality of our corona virus vaccination security guards  in Rosemead & San Gabriel, CA  will be flawless. Moreover, our organization has been in the security service field for more than 25 years and hence is quite proficient to handle extreme critical situation.
Needless to mention, in the year 2020 our guards delivered immaculate security services to numerous hospitals, banks, commercial houses, and government sectors. Hence, all our corona virus vaccination security guards are sufficiently well informed and robustly trained to cater accurate security service. Moreover, we can highly claim that our guards' are immensely capable of enforcing rules and regulations of vaccine distribution centers necessary for smooth vaccination process and distribution. Besides, our guards can also handle irate or agitated customers in a professional way. The fact is, APS guards are not only vigilant and robust but also are highly sensible and compassionate individual .Hence, our guards  have the right ability to pacify even the most aggressive situation is an adept manner.
We understand vaccine distribution centers can be prone to thefts and robberies, so our guards would provide total protection by offering round the clock service facility. Our guards would ensure that vaccines are kept safely and securely. Even, we ensure that there is a right mix of armed and unarmed guards are present on the site to deter any sort of crimes or to handle extreme critical situation. Besides, for ensuring seamless security service usage of various latest technologies are also used by our guards. For instance – RFID tags, CCTV cameras, GPS monitoring system, radio transmitters, metal detector, scanning machines, flashlights, cloud software, mobile devices, infra-red thermometer, automatic sanitizers and other latest gadgets  are used extensively by APS guards for robust security service.
Therefore, if you are searching for trustworthy security guard company in Rosemead & San Gabriel, CA then do contact APS for the same.
Contact Access Patrol Services at 866-770-0004 with questions about security guard duties, responsibilities and functions for commercial office properties in California and Arizona or click on https://accesspatrolservice.com