Criminals See Evacuated Homes As Easy Targets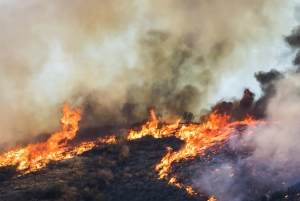 Deserted streets and homes are ideal targets for burglars. With thousands of residents evacuated because of the new fires raging near San Jose, Napa and Sacramento in Northern California and near Glendora in Southern California, home break-ins in evacuated areas is a big concern. Police can't be everywhere. Some homeowners and homeowner associations are turning to private security guards to deter criminal activity, and when necessary, detain would-be robbers until police arrive.
Security Guards Work With Police. Evacuated neighborhoods are danger zones. Access Patrol Service's fire watch guards work with law enforcement to alert them of our presence and will only patrol areas where guard safety levels are acceptable.
Guards patrol association neighborhoods and guard individual homes and evacuated commercial buildings. Guards work in shifts around the clock. This is particularly important where power outages give thieves the cover of darkness and home or commercial building security systems don't work without power. A guard presence is often enough to scare away criminals.
When disaster strikes, Access Patrol Security is there. APS has been a post-disaster security firm for over 25 years and trained to respond immediately when the need arises.
Contact Access Patrol Services at 866-770-0004 with questions about fire watch protection duties and responsibilities in California and Arizona or click on https://accesspatrolservice.com.