Election-Day Security Guards in San Francisco Protect Public's Health & Safety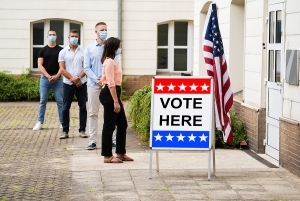 With the election only weeks away, voting locations in San Francisco need to be safe and secure. One way to ensure that mandatory social distancing and mask wearing guidelines are followed is to retain the services of election-day security guards.
Health Screening. In March, security guard service companies began training their guards to perform health-related functions including touchless temperature checks and enforcement of mask-wearing requirements. They are providing the same types of services at polling sites.
Most poll workers are retired seniors. Many are hesitant to volunteer for the 2020 election because of health concerns. With a shortage of poll workers, having guards tasked with temperature screenings and mask compliance, will enable poll workers to focus on their jobs. The amount of contact with voters will be less.
Polling Location Security Services. In this contentious political environment, election officials are rightly concerned that disruptions may occur at voting sites. Unarmed guards can do more than perform health checks. They can also be on the alert for any disorderly activities. If they see this type of activity, they will use their communication skills to discourage harassing or intimidating behavior and contact law enforcement when necessary.
Access Patrol Services (ACS) is experienced in providing protection and security services in all types of event scenarios throughout the San Francisco Bay area, California and Arizona. Contact Access Patrol Services at 866-770-0004 discuss election security services or go to https://accesspatrolservice.com.