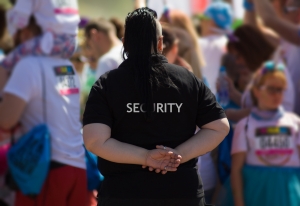 To ensure complete security protection to events select one of the most preferred security guard companies in Sylmar & San Pablo, CA
If you are arranging an event, the first and foremost thing you must take into consideration is proper security service. Without resilient security service, your well-planned event can be a total muddle. The fact is, in an event various types of crowds gather. And so, it is essential to hire security guards to keep a vigilant eye on the ongoing activities inside the event's premises. They can ensure a safe environment by deterring chaos, confusion, and brawls.  Hence, if you are recently planning for arranging an event, then first proceed with arranging a professional security service.
Access Patrol Services (APS) is one of the most preferred security guard companies in Sylmar & San Pablo, CA that specifically provides security services for events. We have been in the security business for over 25 years and thus hold tremendous experience to render the finest quality security service to events. We take into account all the needs and preferences of the clients and align the model as per their suitability. Therefore, clients can completely rely on our security guards for receiving quality security services.
Moreover, being a quality-oriented firm, we employ the best and only BSIS certified security guards in our organization.  Plus, we train them rigorously to upgrade their skills. Crowd control management, intellect development sessions, physical strength sessions, etc. are some of the training programs that are provided to our guards on a frequent basis. Thus, they are highly efficient protectors who can provide complete security protection for your event.
Besides, many new technologies such as RFID tags, GPs monitoring systems, CCTV cameras, metal detectors, scanning machines, mobile devices are also used by our event security guards for premium quality security services.
During an event, our guards responsibly patrol the entire premise to ensure that no unauthorized individuals or unwanted guests are present. Besides, the guards remain highly vigilant to make sure no  suspicious activities transpire at the event area. However, the moment our guards observe something wrong or fishy, they immediately take rapid action to diffuse the danger. In fact, our guards possess the ability to detect impending danger and thus are quick decision -makers as well. Plus, our event security guards in Sylmar & San Pablo, CA act professionally and politely to every guest entering the event area.
Now, the most salient feature of our organization is before we provide security service to any place or area ,we first visit the place, analyze it and then formulate a robust security model.  Hence, our security model is always based on the layout of the assigned premise or area and so our security service is often accurate.
More over, we offer full customization facility to our customers so that they can choose, add or incorporate security specifications as per their needs and preferences.
Therefore, if you are someone looking for one of the most preferred security guard companies in Sylmar & San Pablo, CA professional security service for events, then get in touch with us ASAP.
Contact Access Patrol Services at 866-770-0004 with questions about security guard duties, responsibilities and functions for commercial office properties in California and Arizona or click on https://accesspatrolservice.com