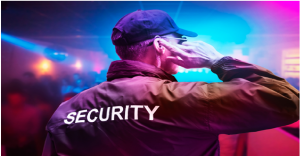 Appoint professional security guard company in La Puente & West Covina, CA to protect your event from uncertain threats
If you desire to make your event successful, the most integral aspect which you must focus on is stringent security service. Events are often soft targets for convicts to carry out their sneaky or devious motives. Therefore, if proper security service is not arranged then your extravagant event might turn into a nightmare.
We, Access Patrol Services (APS) are a prestigious security guard company in La Puente & West Covina, CA that provides accurate security solutions to any size of events. We understand that every event is different and special in its own way. Therefore, our organization formulates security model based on the nature (guests) and size of the event. In fact, before rendering security service to any event, our experts leadoff by visiting the event site to analyze and calculate the risk percentage of the area. And only after this, right number of security guards is deployed to the event site. Also, we focus on providing the appropriate mix of unarmed, armed, static and mobile guards to ensure complete protection.
Besides, our guards are accountable to enforce rules of the event to each and every guest to deter chaos and confusion. Also, if our guards notice anything suspicious, they immediately take strong actions to diffuse the same. Besides, our guards' are great crowd controller and knows how to tackle or handle irate or ill mannered crowd efficiently. Moreover, our guards keep patrolling the event ground to ensure that the site is free from event crashers/spoilers or any unauthorized person.
The fact is, our organization has more than 25 years of experience in event security  in La Puente & West Covina, CA and has a proven track record of delivering the best of protection to several events throughout California. Therefore, when you associate with us, you can be rest assured to experience the best. Also, we only employ BSIS certified guards and so we don't allocate inexperienced or uncertified guards to any event or area for rendering security protection. Additionally, we provide regular training to all our guards to enhance their physical and mental capability. So, our guards even have unique capability to detect impending threats and thus can act swiftly to prevent crimes from occurring.
Moreover, usage of CCTV cameras and GPS monitoring systems are used by our guards to monitor the real time activities of all the guests and guards to provide seamless event security service. In addition to this other latest gadgets such as , radio transmitters, metal detector, scanning machines, flashlights, cloud software, mobile devices and many  more are also extensively used by all our protectors.
Therefore, if you are someone looking for a reliable security guard company in La Puente & West Covina, CA, then get in touch with us ASAP.
Contact Access Patrol Services at 866-770-0004 with questions about security guard duties, responsibilities and functions for commercial office properties in California and Arizona or click on https://accesspatrolservice.com