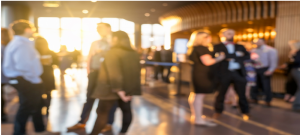 Making an event successful requires extensive effort, planning and arrangements.  But, above all, the key aspect that needs to be taken care of is the safety of your guest.  During large events, chaos, confusion, disorder, and brawls are common. So to defuse such situations, the intervention of professional security guards is extremely necessary.   The fact is event security guards are specially trained to identify and defuse challenges that may occur during an event. So, if you want superior security protection for your event, then trust Access Patrol Services (APS).
The guards of APS are provided with rigorous training on event security service. They are skilled and BSIS certified. Besides, the training sessions are arranged frequently for the guards to keep them robust, flexible and professional. Some of the training sessions are crowd control management, rapid decision-making skills, intellect development programs, power drills, first responder awareness programs etc. Hence, APS's event guards are highly trustworthy security protectors.
The fact is APS has been in the event security service in Santa Rosa & Windsor, CA for more than 26 years.  And, owing to the amount of knowledge and experience, APS has garnered the ability to address the security needs of all types of events.  Currently, APS is feted as the best security guard company in Santa Rosa & Windsor, CA for event security service.
APS builds an exclusive security plan for each of the events to ensure total security protection. The security specialists of APS visit the site beforehand to analyze the sensitive areas of the event venue and then formulate the security plan.  Besides, depending on the site, appropriate allocation of all types of security guards such as armed, unarmed, static and mobile guards are allotted to the site. These guards keep a watchful eye on the activities of the event to discard all sorts of dangers.
Besides, they make sure that no unauthorized individual gets access to the event venue without permission or pass.  Also, some of the guards frequently patrol the event site to discard the piling up of fishy activities. Moreover, if they observe any misbehaviors of any guest; they take charge of the situation, investigate and then take proper action against them.
Also, a myriad number of advanced gadgets such as CCTV cameras, GPS monitoring systems, radio transmitters, scanning machines, metal detectors, etc., are provided to the APS guards for superior security protection during the event.
Needless to mention, customized security services are also offered to the event organizers so that they can choose security features as per their needs and preferences.
Therefore, if you are searching for the best security guard company in Santa Rosa & Windsor, CA for event security, then get in touch with APS for the same. 100 % professional security protection will be offered to you at a reasonable rate.
Contact Access Patrol Services at 866-770-0004 with questions about security guard duties, responsibilities and functions for commercial office properties in California and Arizona or click on https://accesspatrolservice.com