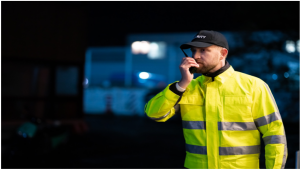 At present keeping tensions at bay is a challenging task. If you deep dive into the statics, homicides, in Oakland, San Diego and Los Angeles have increased by 17 % in 2021.  Robberies, murders and thefts are common crimes that transpire in California on a daily basis. So, in this taxing time, if we aren't mindful of our safety and security, it can be death-defying.  So, if you want to get superior security protection, choosing professional security guards from Access Patrol Services (APS) is a must.
APS is a highly experienced security company in Irvine & Anaheim, CA that offers robust security solutions to clients as per their needs and preferences.  The guards hired in APS are highly experienced; BSIS certified and trained security guards who are adept at handling all types of critical situations. They are observant, intelligent and quick to respond to looming threats. They consistently patrol the premise of the clients to eliminate threats.  Moreover, several training programs are arranged for the guards to keep them efficient and up to date with modern security techniques. Some of the mandatory training session for the APS guards is power drills, rapid decision-making programs, intellectual development programs etc.  Therefore, the guards of APS are highly professional to address all types of security needs of clients.
The fact is, APS has been in the security business for more than 26 years and thus has high efficacy to render top-quality security protection to clients.  Before providing security facilities to clients, a solid security plan is chalked out keeping all the porous points of the client premise. Thereafter, armed, unarmed, static and mobile guards are deployed to the client's premise for full security coverage. Also,  as technology is a major part of APS, various advanced security gadgets such as CCTV cameras, GPS monitoring systems, radio transmitters, metal detectors, scanning machines, mobile devices, flashlights, cloud software, infrared thermometer, automatic sanitizer and many more appliances are provided to the guards of APS for rendering premium security service to clients. Also, APS offers a personalization facility to its clients so that they can choose security specifications as per their needs and preferences.
Therefore, if you are searching for a highly experienced security company in Irvine & Anaheim, CA premium security service, then get in touch with APS ASAP.
Contact Access Patrol Services at 866-770-0004 with questions about security guard duties, responsibilities and functions for commercial office properties in California and Arizona or click on https://accesspatrolservice.com