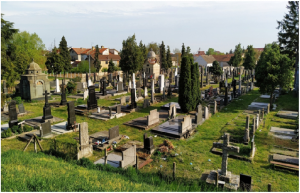 Cemeteries are sacred places and almost everyone can access cemeteries easily. This is the main reason why convicts take undue advantage of these sacred places. Plus, since cemeteries often stay deserted, there is a mass misconception that it hardly has anything to lure criminals. But in reality, many valuable items like headstones, gravestones, memorials, lights, flowers are stolen from cemeteries.  Besides, heinous crimes like murder, extortions, thefts and vandalism have also become quite recurrent occurrences in these places.
So, it is important for the cemetery authorities to arrange for professional security services to not only protect the decorum of these premises but also to prevent uncertain dangers.
Access Patrol Services (APS) is the finest security service provider in Redwood City & San Carlos, CA that you can rely on for absolute cemetery security. The company recognizes security threats associated with cemeteries and how to prevent crime occurrences in these premises.  APS has a specialized team of cemetery security guards who are trained to take rapid actions to deter all sorts of dangers that may occur in cemeteries.  Most importantly, APS is a quality-centric firm that only hires BSIS certified and experienced security guards. Therefore, cemetery authority can be 100 % sure that no uncertified guards will be positioned to their cemeteries.
Also, APS trains its guards not only to provide security cover but also to enforce cemetery guidelines to all the visitors. They keep patrolling the assigned premises to discard suspicious activities and take immediate action if they observe anything fishy.  Honestly, the cemetery security guards of APS are highly responsible, vigilant and robust protectors.
The fact is, APS has over 25 years of experience in the security market and hence has garnered high proficiency to cater to the finest quality service to any place or people. The initial step of APS is to visit the site, scrutinize the layout, mark the critical areas, and then formulate a robust security model to provide absolute security protection to the assigned premise. And since, this process is mandatory carried out in the APS, the service accuracy is often close to imperfection.
Moreover,   RFID tags, CCTV cameras, GPS monitoring systems, radio transmitters, flashlights, cloud software, mobile devices and other latest gadgets are used by the APS guards to provide flawless protection to the assigned site.
Therefore, if you are searching for the finest security service provider in Redwood City & San Carlos, CA for absolute protection of cemeteries, then do get in touch with us. We also provide a customization facility so that cemetery authorities can choose security specifications as per their needs and preferences.
Contact Access Patrol Services at 866-770-0004 with questions about security guard duties, responsibilities and functions for commercial office properties in California and Arizona or click on https://accesspatrolservice.com