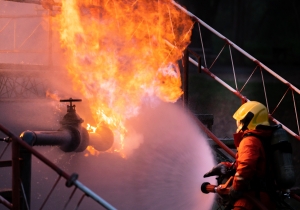 Christmas is around the corner and people have started gearing up for the exciting occasion with smiles on their faces. The most awaited Christmas shopping spree has begun with people buying new clothes, confectionaries, gifts, and fire-crackers. During Christmas, one of the most common ways to celebrate is to burst fire-crackers as the children love to see the astonishing sight of sparkling crackers in the beautiful night sky. However, just like a coin has both sides, fire-crackers too have a flip side because they come with a risk. There is always a chance of a fire breaking out from fire crackers if it is not handled with care. Nobody on earth would want a mishap to occur on such a happy occasion and therefore, it is always advisable to take requisite safety measures for fire prevention. The best and safest way to enjoy the merry-making of this festival is to arrange for fire fighters in advance as a safety back up.
Access Patrol Service (APS) is an eminent security guard company in Mecca & Thermal, CA which offers efficient and vigilant BSIS certified fire watch security guards  in Mecca & Thermal, CA for providing complete protection to any place, residence or area. The guards are trained in a meticulous manner so that their skills and capabilities stay intact and up to the mark for seamless service delivery. Moreover,APS recognizes that during festive season/ occasion or event it is essentially required to carefully monitor the place of event or occasion as chances of accidents increases 10 times during an event due to huge accumulation of crowds.
Therefore, during Christmas, the fire watch security guards of APS remain highly vigilant and cautious to ensure total protection of the assigned area or location. Moreover, for the safety of the client the guards frequently foot patrol and vehicle patrol the entire perimeter of the assigned location.So, when APS service is employed, the security specialist of the organization will fist analyse and scrutinize the area before positioning fire watch security guards. This facility ensures that each and every corner is covered under the security surveillance system.
Furthermore, round the clock security facility is provided for any emergency security need.The guards also take help of latest gadgets like GPS monitoring systems, radio transmitters, CCTV cameras, flashlights and other appliances to provide flawless service to the client or location. So, APS is undoubtedly the finest security guard company in Mecca & Thermal, CA that can provide complete protection in all ways.Therefore, do contact APS for getting full protection in this Christmas.
Contact Access Patrol Services at 866-770-0004 with questions about security guard duties, responsibilities and functions for commercial office properties in California and Arizona or click on https://accesspatrolservice.com