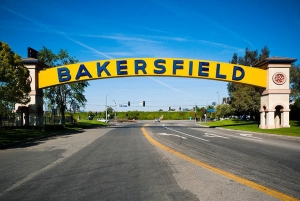 Summer is not quite here and it's already fire season in Bakersfield. The fire danger will only increase as we approach the July 4 holiday and the illegal use of fireworks. The fire threat has prompted many businesses to add fire watch security guards to their locations.
The use of illegal fireworks is already a problem. Kern County Fire Department recently announced that the public can report illegal firework use on its website. In 2016, the department received over 1,200 reports of fireworks and recovered 300 pounds of illegal fireworks. Even with community participation and vigilance, those intent on shooting off fireworks will do so.
Fire Watch Security Guards.  Businesses, retail centers and private communities are hiring security guards to stand watch before, during and immediately after the Fourth of July holiday. Guards will be on the lookout for fireworks and for fires that may be ignited as a result.
Fireworks can burn has hot as 2,000 degrees. Fireworks launched into the sky must come down. When the spent firework lands on a roof or onto another flammable location, the results can be devastating.
APS guards are trained to be on high alert for a wayward firework. If they see fireworks in the sky close by, they will determine whether spent fireworks have fallen onto the property and if action needs to be taken. All guards are equipped with fire extinguishers so they can put out small fires. Guards will immediately call the fire department for response. This quick action can prevent small fires from becoming large fires that can devastate a business or community. Call us for firework security guard Bakersfield
Contact Access Patrol Services at 866-770-0004 with questions about security guard fire watch duties in Bakersfield or click on https://accesspatrolservice.com.
Photo by: nickchapman