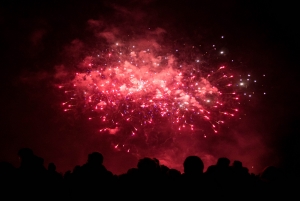 With the Fourth of July comes fireworks. While public firework displays will take place around Fresno and "safe and sane" fireworks are available for purchase, illegal fireworks will still be plentiful. The concern over the potential fire hazards of illegal fireworks has prompted Fresno businesses, retail centers and private communities to hire fire watch security guards to patrol during the July 4 holiday.
Firework Security Guards. Those who shoot off illegal fireworks have little regard as to where the spent fireworks will land. These still smoldering fireworks can and do start fires every year. If a firework lands in dry vegetation, on a rooftop or some other easily flammable location, a fire can quickly begin and a building can be fully engulfed before fire fighters can be notified and respond. Call us for fireworks security guard Fresno .
Guards on fire watch are constantly looking for potential fire hazards. They are equipped with fire extinguishers so they can put out fires before the fires have the chance to grow. Guards immediately call the fire department to alert them of the danger. By having trained personnel onsite, reaction times to fires are reduced dramatically, saving business owners and communities from significant financial loss.
Contact Access Patrol Services at 866-770-0004 with questions about security guard fire watch duties in Fresno or click on https://accesspatrolservice.com.