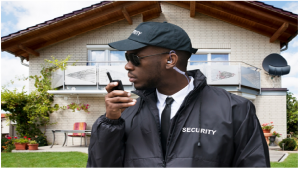 If you feel that during fumigation, there is hardly any need for security protection for your property, then you are greatly mistaken. The fact is, thieves and crooks often target properties that are about to get fumigated. They are aware that during fumigation, owners tend to think that due to the presence of strong chemicals nobody can access the property.  But in reality, it is just the opposite. Crooks take opportunities of this mass misconception and successfully carry out their motives. Therefore, it is mandatory to arrange for strong security protection especially when you are about to fumigate your house.
Access Patrol Services (APS) is the most trustworthy security service provider in Dallas, TX that provides complete protection to residences, commercial properties and individuals. For complete security during fumigation, APS chalks out a solid security plan and secures all the entry and exit points of the client's property.  Besides, they use radio transmitters, GPS monitoring systems, flashlights, mobile devices, CCTV cameras, cloud software and many more to provide complete security cover to the client's property during fumigation.
Also, the fumigation security guards in Dallas, TX deployed to the client site are all BSIS certified.  The fact is APS has been securing several residential properties for more than 26 years. And due to such humongous experience, ACS has the adeptness to implement top-quality security services for clients.   APS is a majorly tech-driven and process-driven firm and thus often the service of APS is close to perfection.
APS believes in providing continuous training to all its guards to sharpen their skills.  For this reason, frequently training sessions are arranged for all the guards. Some of the compulsory training programs in APS are rapid decision-making programs, intellectual development programs, power drills, first responder awareness programs and many more. They have the ability to detect uncertain threats quickly and can act in a robust manner to defuse the danger. Therefore, you can completely trust the APS's fumigation security guards for superior security protection.
Needless to mention, APS also provides full personalization facilities to ensure all the needs and preferences are implemented as per the client's demand.
Therefore, if you are someone searching for the most trustworthy security service provider in Dallas, TX, for protecting your property during fumigation then get in touch with APS immediately.
Contact Access Patrol Services at 866-770-0004 with questions about security guard duties, responsibilities and functions for commercial office properties in California and Arizona or click on https://accesspatrolservice.com