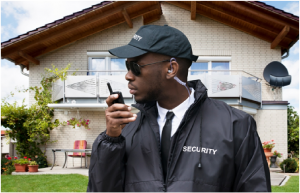 While tenting your house, hire a professional security service provider in Hayward & Fremont, CA to receive genuine security protection
During the fumigation process, your property becomes exceedingly prone to thefts and vandalism compared to normal times. Convicts find it 10 times easier to break –in due to the absence of owners or house members.  You may think that harmful chemicals during the fumigation process will not entice convicts.  Unfortunately, convicts mostly perk on this misconception of ours. Just by putting right mask and gloves, they easily capitalize on such opportunities. So, next time when you are about to fumigate your house make sure that you provide complete security protection.
We, Access Patrol Services (APS) are a 25-year veteran security service provider in Hayward & Fremont, CA that has been known for its ability to provide immaculate security facilities to clients. with our BSIS certified security protectors and advanced technologies we are fully equipped to provide robust protection to your property. Besides, we consistently train our fumigation security guards to upgrade their security skills.  So, physical as well as intellect enhancement programs are frequently conducted for them. As a result, our guards are an expert not only in preventing crimes but also in detecting impending dangers.  Consequently, they are quick decision-makers as well.
The fact is, when we provide services to a property that is about to get fumigated, we specially train and instruct the guards to remain extra vigilant as the risk multiplies extensively to these properties.  Besides, we conduct a thorough analysis of the premise to formulate a comprehensive security model. We also calculate the risk percentage associated with the area. This process is mandatorily carried out by our security specialists beforehand to ensure complete protection of the assigned property.
Besides, to protect these properties from break-ins and vandalism, our fumigation security guards in Hayward & Fremont, CA frequently patrol the area and if suspicious activity is noticed, immediate action is taken to prevent the same. On top of that, they also use advanced technologies to outsmart manipulative minds. For instance – radio transmitters, CCTV cameras, GPS monitoring systems, audio deterrent devices, flashlights, etc., are some of the latest gadgets that are used extensively to provide flawless services.
Also, we provide personalization facilities to our clients. So, our clients are free to choose or incorporate security specifications as per their needs and preferences. For instance – if they demand more armed guards than unarmed ones or more foot patrol services, then we immediately execute the request without dragging them into many formalities.
Therefore, if you are someone searching for a highly professional security guard company in Hayward & Fremont, CA for complete protection of your property or house, then get in touch with us immediately.
Contact Access Patrol Services at 866-770-0004 with questions about security guard duties, responsibilities and functions for commercial office properties in California and Arizona or click on https://accesspatrolservice.com