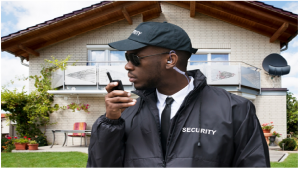 If you have a delusion that there is no need for security service while fumigating your property due to the presence of harmful chemicals as no one will be able to access the property, then you are hugely mistaken.  In reality, often crooks lay their eyes on these kinds of opportunities and put the right mask and gloves to carry out their devious motives effortlessly due to poor security surveillance. Therefore, it is essential to provide strong protection to your house, especially while it is getting fumigated.
For complete security during fumigation, you can rely on one of the most professional security companies in Mill Valley & Sausalito, CA which is Access Patrol Services (APS). It is a 25-year veteran security company that has a high efficiency to identify accurate security necessities of places or people.
With BSIS security guard team and advanced technologies, APS is fully equipped to provide complete protection of your property.  The guards are given rigorous training to keep them updated with new security techniques and methodologies so that they are able to meet the evolving security needs of the client.  The training sessions of the fumigation security guards include rapid decision-making programs, power drills, intellectual development programs and many more. Therefore, the fumigation security guards in Mill Valley & Sausalito, CA of APS are highly efficient to protect client's property from uncertain dangers. They also patrol the client's premises continuously during fumigation to make sure the property is safe.
Most importantly, a thorough security plan is structured strategically to provide absolute security cover to the premise. All the sensitive spots are given special attention and a mix of both armed and unarmed security guards are positioned on the premise for total protection.
Also, APS extensively uses advanced technologies to outsmart manipulative minds. For instance – CCTV cameras are installed strategically to make sure that the entire property falls under the security surveillance purview of APS. Apart from CCTV cameras, radio transmitters, metal detectors, scanning machines, flashlights, cloud software, mobile devices, GPS monitoring system are used by the guards of APS for the errorless security services delivery.
Needless to mention, APS also provides a full customization facility, so that clients have the opportunity to choose, formulate or add security specifications as per their needs and preferences.
Therefore, if you are someone searching for one of the most professional security companies in Mill Valley & Sausalito, CA, then get in touch with APS immediately.
Contact Access Patrol Services at 866-770-0004 with questions about security guard duties, responsibilities and functions for commercial office properties in California and Arizona or click on https://accesspatrolservice.com