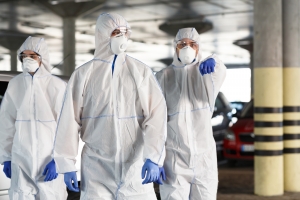 People have this usual pre conceived notion that during fumigation process security service is unnecessary to protect the place. They assume that the presence of strong smell of chemicals will not let the convicts to break-in and carry out thefts or vandalism inside the property. But, unfortunately the truth is just the opposite. Convicts successfully play theircards right during this time because of this mass misconception.The fact is, they specially look out for those houses that are about to get fumigated, as it becomes an easy target for them to loot and vandalize due to the absence of house owner and members. Therefore, it is utmost necessary to employ professional security services at least when your house is getting fumigated.
Access Patrol Service (APS) is a highly professional security guard company in Ridgecrest & Inyokern, CA, which provides experienced and sturdy BSIS certified security guards for providing complete protection to any place or person. Moreover, since the organization has been in this field for more thanfive decades, the firm has accumulated high proficiency in catering accurate security service to the client. Again, one of the biggest plus points of APS is they adapt to the evolving trends and hence various kind of latest technologies are used by the security guards of APS for providing absolute protection.
Furthermore, the guards of APS are trained in a meticulous manner, so they have theability to identify and sense impending dangers which may pose threat to the property or client. This exceptional ability of the guards helps them to take quick actions at times of emergency. Moreover, all the guards of APS are BSIS certified and no uncertified guards are allowed in the organizationand neither deployed on the site. Therefore, APS guards are highly professional and efficientwho ensures quality security service delivery. Also, during fumigation process, APS guards are specially instructed to remain extra vigilant and alert to deter and diffuse suspicious activities, if observed.  Hence, fumigation securityguards of APS make sure that the tenting process is carried out in a smooth manner without any obstruction.
Also, for flawless service delivery during fumigation process, usage of various technologies such as RFID tags, CCTV cameras, GPS monitoring system, radio transmitters, metal detector, scanning machines, flashlights, cloud software, mobile devices are extensively used by the fumigation security guards in Ridgecrest & Inyokern, CA of APS for providing complete protection to the property.
Also, 24 hour foot patrol and vehicle patrol service is offered to the client for complete monitoring purpose. This facility ensures that even the backyards and the surrounded area is free from any suspicious activities or crimes.
Therefore, if you are willing to seek the best security guard company in Ridgecrest & Inyokern, CA for robust and complete protection, then do contact APS for the same.
Contact Access Patrol Services at 866-770-0004 with questions about security guard duties, responsibilities and functions for commercial office properties in California and Arizona or click on https://accesspatrolservice.com