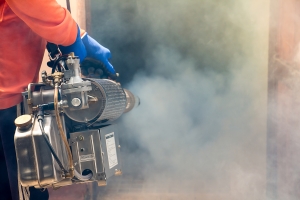 Opt for an experienced security service provider in San Marcos & Escondido, CA to protect your house during fumigation treatment
There are few key points which you must take care of if you are about to fumigate your house or office. Firstly, ensure that you keep all important documents in a safe place or locker. Secondly, make it a point to cover up furniture and equipment before the treatment starts. And lastly, hire proper security service from a reliable provider.
It has been observed that most often convicts target those houses that are about to get fumigated simply because of the misconception of the masses. Most of us believe that due to the presence of strong chemicals it is impossible for burglars or thieves to enter fumigated premises. But in reality, it is just the opposite.  Convicts often play their cards due to this major mass misconception. So, if you want to reduce the risk of thefts, break-ins, and vandalism at your house or office during the fumigation process, then it is mandatory to employ a trustworthy security guard company like Access Patrol Services.
We, APS are a highly experienced security service provider in San Marcos & Escondido, CA that has substantial knowledge and expertise to cater accurate security solutions to any place or premise. APS has over 25 years of mammoth experience in this industry. So, you can expect the best quality security service from APS.
We recognize the fact that, when a house is about to get fumigated or under the process of fumigation, it is highly prone to several kinds of risk. And so, before positioning or deploying our |fumigation security guards in San Marcos|& Escondido, CA,   to your property, we ensure they are the right team. The fact is we have a specialized team of fumigation security guards who are aware of all the critical security needs of a property that is going to be tented. Besides, all of the guards are BSIS certified security guards and so no uncertified guards are deployed at the client site. Even, the guards are provided training on a routine basis to enhance their existing skills
In fact, our security guards are skilled to identify impending danger, and thus they are quick decision-makers as well. They know how to detect and detect uncertain threats. Moreover, they are a highly vigilant and active individual who provide 24-hour security service. The guards continuously patrol the premises of the client's property to diffuse suspicious activities. Additionally, the guards use numerous latest gadgets such as GPS monitoring systems, radio transmitters, flashlights, mobile devices, CCTV cameras, etc., to provide seamless security service.
Therefore, if you are searching for an experienced security guard company in San Marcos & Escondido, CA, then get in touch with us ASAP.
Contact Access Patrol Services at 866-770-0004 with questions about security guard duties, responsibilities and functions for commercial office properties in California and Arizona or click on https://accesspatrolservice.com