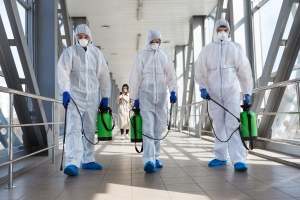 If you are planning to fumigate your office building or house, then you must consider a few crucial points before tenting your place. First – store the important documents in a secure place, second – cover all the expensive equipment and third – employ a robust security system.
During the fumigation process, there are high chances that your important documents may get misplaced if not stored carefully. Most of the pest control technician does not take the responsibility or are not held accountable if something during the process gets misplaced. Their job is to disinfect the entire place and beyond that they are not concerned. Therefore, prior precautions should be performed before the fumigation process starts. Also, expensive equipment like laptops, computer, photocopy machine etc., should be covered properly to ensure no damage occurs during the treatment. Lastly, proper security guard services are the most crucial factor which should not be overlooked.
Most of the time, it is during the fumigation process that thieves and burglars try to break-in to the premises as they are aware that the entire building or the house will be empty. You should not hold this misconception that due to the harmful chemical from the fumigation process nobody can enter the premises. The burglars and thieves try to capitalize on this general idea of the masses. Just by wearing proper gears and masks, convicts can easily carry out the crimes. Therefore, employing fumigation security guards from a professional security guard company in San Diego holds utmost importance.
Access patrol services (APS) is a security guard company in San Diego that provides the best fumigation security guards across San Diego. Our guards are supremely talented, trained and BSIS qualified. We ensure that all our guards are not only physically fit but are also able to detect any looming dangers. They are provided will frequent training sessions to enhance their intellect skills apart from physical skills. Hence, our guards are quick to take immediate action during emergency.
APS follows 3 crucial steps to ensure the fumigation process is done without any interruption. The steps are as follows:
1st step: The security expert will analyze the whole area to understand the actual requirement of the number of security guards in the location.
2nd step: The security expert will formulate or customize a security plan based on the area, duration of the fumigation process and the requirement of the customer.
3rd step: In the last step, the security expert will verify whether the updated security plan has been properly executed or not, to ensure no thieves and burglars can entire the premises during the fumigation process.
APS has been marked as the most trusted security service provider in San Diego till date. The guards provide unparalled round the clock services to the customers to ensure total safety and protection. Therefore, choose us if you want an absolute professional security service.
Contact Access Patrol Services at 866-770-0004 with questions about security guard duties, responsibilities and functions for commercial office properties in California and Arizona or click on https://accesspatrolservice.com