Celebrate Halloween safely by picking a reliable security service provider in East Los Angeles & Commerce, CA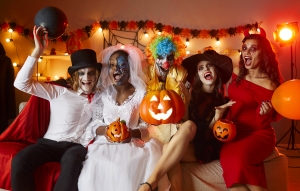 Halloween is the time when everyone around is excited, especially children who go for trick-or-treating. However, security during this special time needs to be given extra priority. As the essence of Halloween involves dressing up in scary outfits and putting on spooky makeup, recognizing each other isn't easy. Unfortunately, the evil minds take the advantage of the situation and try to sneak into the party wearing a mask and carry out robbery and steal things from a party. Children's safety is also a concern during this time as they can be easy targets of kidnapping. To avoid such mishaps during the festival, hiring top security guards is a must.
Access Patrol Services (APS) is the finest security service provider in East Los Angeles & Commerce, CA that offers professional guards who are specially trained to provide the best security services especially at festivals like Halloween. We understand the fact that it is extremely difficult to recognize the guests dressed up in scary outfits, and hence, take precautionary measures to ensure there is zero possibility of any convicts entering the party creating havoc.
Being a customer-centric firm, we make sure that our client's expectations are met in every possible manner. For absolute Halloween security in East Los Angeles & Commerce, CA, our team of security professionals first identifies the critical areas of the premise, identifies the possible threats of the event and then proceeds to deliver accurate security service. Keeping the potential risks in mind, we also advise our clients to hide their valuable assets from the party arena.
Our guards stay on their toes and keep a thorough check on your guests and children to ensure they are safe and secure. Besides, if anything suspicious is observed, rapid action is taken by the guards to deter the same. The guards of APS are responsible protectors and are committed to their service hence they leave no stone unturned to make sure that the event of the client takes place in a smooth manner.  Hence, you can expect robust Halloween security from us.
The fact is we have been operating in the security sphere for over 25 years and have been a preferred security service provider in East Los Angeles & Commerce, CA since inception.  Our dedication and commitment to providing only high-quality services have made us a leader in the security service industry.  Hence, relying on our service won't be a disappointment for you. Also, our security guards are well equipped with modern security patrolling gadgets and are BSIS certified as well.
So, if you are looking to secure your Halloween party or want complete protection for your loved ones and your guests get in touch with us today and have a happy and safe Halloween.
Contact Access Patrol Services at 866-770-0004 with questions about security guard duties, responsibilities and functions for commercial office properties in California and Arizona or click on https://accesspatrolservice.com