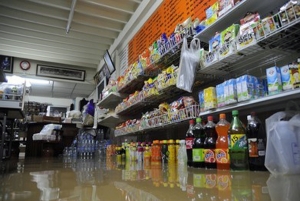 Heavy rains hitting California are an opportunity for criminals to steal from damaged homes and businesses. Security guards assigned to protect property during and after rains can keep property secure.
Security Protection During Bad Weather. Severe rain, wind and snow are a convenient cover for criminals. With fewer people on the roads or on the streets, they can carry out their crimes unnoticed. Power outages during bad weather are another opportunity for criminals to hit businesses. If weather-related damage occurs at a home or business that makes the property uninhabitable, it needs to have security. That's where security guards can help.
Security guards will protect a weather-damaged home from thieves and vandals while the homeowner is away.  The same is true for retail businesses. Damage to roofs, windows and doors makes entry easier. Until entry points are fixed or boarded up, the property is vulnerable to theft.
Access Patrol Services is a bonded and experienced security guard company serving California. All our security guards are BSIS security guard licensed and can be armed or unarmed.
For more on security guard services for your home or business in California, call Access Patrol Services at 866-770-0004 or click on https://accesspatrolservice.com.