Secure hospitals by picking a top security guard company in Santa Rosa & Windsor, CA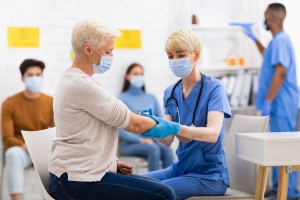 We all are more or less aware of the kind of emotions that transpires in hospitals. And so, security services in the healthcare industry are far more intricate than any other industry. This is the reason why hospitals need to hire professional guards only from a reliable and experienced security provider.  Security guards from a reliable source mean they are experienced, well trained and well equipped to cater only professional services.
In several instances, it has been observed that doctor's nurses and other health care staff faced uncertain aggressive behavior from the friends & relatives of the patients and also from the visitors. During such situations, it becomes essential to maintain the decorum of the hospital.
Access Patrol Services (APS) is one such security guard company in Santa Rosa & Windsor, CA that has the ability to meet all the critical security needs of hospitals. They only provide BSIS certified security guards to the hospitals.  APS believes that apart from the certification experience matters a lot to render appropriate service to this industry.  So, until and unless the guards are experienced for at least one year, they are not employed and neither deployed to the assigned site. So, if you want to hire efficient and professional guards, then APS is surely a one-stop solution for you.
Besides, since APS has over 25 years of experience in this field, they have the right knowledge and exposure to provide an accurate security solution.  The fact is, before providing services to hospitals, the APS specialists visit the premises to understand the critical points. Thereafter, a comprehensive security plan is chalked out to allocate an appropriate number of security guards in the hospitals. We ensure that not only fixed or armed guards are deployed but also mobile guards are provided to the hospital premise so that they can patrol and check that the premise is safe from suspicious or unruly activities.
Besides, the guard strictly enforces hospital guidelines for every visitor and consistently monitors every visitor to deter chaos and confusion. The guards are well trained to identify impending danger and thus take action beforehand to prevent the ugly situations from occurring. Plus, the guards are also trained in crowd control management, so during any sort of critical situation or chaos in the hospitals; they are efficient to take control of such situations and also have the efficiency to pacify anxious or panic-stricken crowds.
Moreover, numerous advanced technologies such as CCTV cameras, GPS monitoring systems, radio transmitters, mobile devices, automatic sanitizers, infrared thermometers, etc are used by the hospital security guards company in Santa Rosa & Windsor, CA of APS for errorless security service delivery.
Therefore, if you are searching for a professional security guards company in Santa Rosa & Windsor, CA, for complete protection of hospitals, then do get in touch with us ASAP.
Contact Access Patrol Services at 866-770-0004 with questions about security guard duties, responsibilities and functions for commercial office properties in California and Arizona or click on https://accesspatrolservice.com