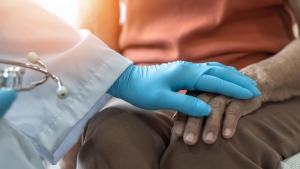 Various types of emotions transpire inside a hospital premise, which can trigger indifferent or aggressive behavior of the patient's family member/patient. Consequently, chances of chaos are extremely high in hospitals and so the need for proper security intervention is must in these premises. Besides, on a regular basis hospitals witnesses' huge footfalls and so thefts and vandalisms can also occur. Therefore, it is imperative to provide highly professional security protection to hospitals to deter uncertain threats.
We, Access Patrol Service (APS) are a renowned security guard company in San Marcos & Escondido, CA that understand all the basic and critical security needs of hospitals. Therefore, our organization has a dedicated team of robust hospital security guards company in San Marcos & Escondido, CA  who are highly skilled to meet each and every security concern of hospitals. All our hospital guards are BISIS certified and so they are highly proficient to provide extremely professional service.
Besides, our hospital security guards are responsible for enforcing hospital guidelines to all the visitors to keep the place organized. Even, they ensure that no suspicious activities piles up inside the hospital which may pose threat to the medical staffs and the visitors. The fact is, our hospital guards undergo intensive training to meet all the security concerns of any hospital premise. They are keen observant and thus can identify impending threats quickly. Therefore, our guards are highly vigilant protectors who can ensure complete safety of hospital premises.
Besides, the best feature of our organization is that before catering security service to hospitals, our security specialist first visits the entire perimeter to plan a comprehensive security model. And, thereafter sufficient number of security guard area placed strategically, so that the entire area of the hospital falls under the APS security surveillance system. Moreover, we also ensure that there is a right mix of armed, unarmed, mobile and fixed security guards present in the hospital for absolute security protection.
In addition to this, our guards also ensure that the prohibited or restricted areas of the hospitals are not accessed by any unauthorized personnel. In fact, our guards use advanced technologies such as CCTV cameras, GPS monitoring system, radio transmitter and many more to ensure flawless security service delivery.
Our guards' also provide 24 hour service facility. Therefore, our mobile guards patrol the hospital frequently to keep a thorough check on the premise. So, we can strongly claim that our guards are highly active and vigilant personnel who can ensure complete protection to hospitals.
Therefore, if you are looking for highly professional security guard company in San Marcos & Escondido, CA then get in touch with us immediately.
Contact Access Patrol Services at 866-770-0004 with questions about security guard duties, responsibilities and functions for commercial office properties in California and Arizona or click on https://accesspatrolservice.com