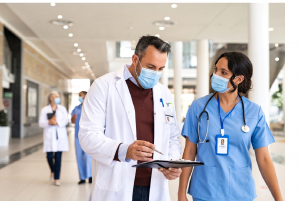 Hospitals frequently have significant levels of foot traffic, which increases the likelihood of crime occurring there. The truth is that anyone can commit crimes by disguising as a doctor or nurse in hospitals without strict security measures in place. Additionally, it is essential for providing treatment or providing medical services to preserve order and discipline on hospital property. Therefore, to maintain sufficient safety inside hospitals, it is absolutely necessary to station trained hospital security guards from Access Patrol Services (APS).
Professional hospital security personnel are skilled in identifying threats on hospital property. Being professionals, they are well aware of their roles and obligations and are able to take immediate action to prevent crimes from occurring. In order to preserve the ambiance of the hospital grounds, hospital security guards also assist in upholding and enforcing laws and regulations to all patients, visitors, and staff. It goes without saying that these guards are also great crowd managers, making them adept at controlling hospital visitors during busy periods or emergency situations.
Therefore, if you want to give your hospital strong security support, APS should be your first choice. APS is the top security guard company in Houston, Texas that has over 26 years of experience in providing hospital security services. Since APS is an expert security company, it offers hospitals of all sizes an effective and comprehensive security solution.
Before offering security services, APS specialists do a risk assessment procedure to identify all of the hospital's vulnerable areas. Following this, a strong security strategy is created for the best possible facility protection. The guards also participate in a variety of training sessions to hone their skills. Some of the training sessions involve subjects like quick decision-making strategies, intellectual growth courses, power drills, crowd control management, and many other things. Additionally, they are given sophisticated security tools like CCTV cameras, scanning devices, metal detectors, radio transmitters, infrared thermometers, automatic sanitizers, and many more to ensure hospital security services are delivered flawlessly.
The hospital administration can choose the security standards that best suit their needs and tastes thanks to the customizable options offered by APS. In order to find the top security guard company in Houston, Texas for hospital security services, get in touch with APS.
Contact Access Patrol Services at 866-770-0004 with questions about security guard duties, responsibilities and functions for commercial office properties in California and Arizona or click on https://accesspatrolservice.com.