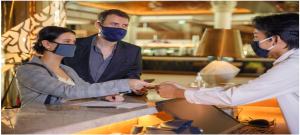 A hotel that has excellent hospitality is undoubtedly preferred by customers. But, apart from this, another major aspect that customers expect while stepping into a luxury hotel is their safety and security. So, no matter how well you provide hospitality service to your guest/customers if your hotel doesn't have professional security service to ensure complete safety to them, you can never satisfy them with your hospitality. So, as a hotel owner, it is crucial for you to provide a sense of security to your customer and for that hiring only BSIS certified hotel security guards is an absolute necessity.
Trained hotel security personnel have the ability to respond to emergency situations. They are usually aware of all the potential risks that can pose threats to the safety of the hotel.  The presence of hotel security guards' extensively helps to abate thefts and vandalism. Hotels that have hard-line security services are least targeted for vandals and robberies. Moreover,  hotel guests often have expensive items like jewellery, laptops, phones, tabs etc, which are lucrative items for thieves.  And in the presence of visible security presence potential thieves refrain from committing crimes.  Besides, at times, guests can behave in an aggressive manner and make the staff uncomfortable.  So, whether the guest is behaving aggressively or threatening the hotel staff members, hotel security guards provide solid backup to pacify the situation and protect the hotel staff as well.  So, if you want professional security protection for your hotel, getting hotel security guards from Access Patrol Services (APS) is a must.
APS is known for providing the finest and most accurate security solutions to hotels and guest houses. Our company ensures that your guests have a safe stay at your hotel. We hold a massive experience of more than 26 years in the hotel security business and thus we are dexterous in meeting all your security expectations.  We are recognized as the most professional security guard company in Rancho Cucamonga & Rialto, CA.
We do recognize that hotels are busy places and several people access hotels on a daily basis. Hence, we train our guards meticulously to recognize impending threats. They are provided with training on a frequent basis which includes Power training, rapid decision-making training, intellectual development programs, first responder awareness programs, etc. hence, the guards are highly vigilant, flexible and robust.
Most importantly, we provide only BSIS certified hotel security guards and thus no uncertified guards are deployed to the clients. Therefore, if you are searching for a highly professional security guard company in Rancho Cucamonga & Rialto, CA then gets in touch with us today.
Contact Access Patrol Services at 866-770-0004 with questions about security guard duties, responsibilities and functions for commercial office properties in California and Arizona or click on https://accesspatrolservice.com