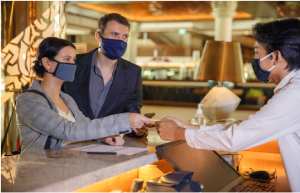 If you want to offer a 5-star hotel experience to your guest then hospitality is surely your prime concern. While it is said that the standard of hospitality is the deciding factor in a hotel's success, but in reality, it is much more than that. Every guest even before entering the hotel wants to feel safe and secure. Until and unless they have the feeling of being secured no matter how much you offer hospitality it won't meet their expectations. So, it is fundamental to provide a sense of security to your guests by hiring top-class security services of a highly professional security company like Access Patrol Services (APS).
APS is known for delivering the finest and accurate security service facility to hotels and guest houses. Our company ensures that your guests have a safe stay at your hotel and have a premium experience. We hold a mammoth experience of more than 25 years in this arena and thus we are proficient in meeting all your security expectations.
We deeply recognize that hotels are busy spaces and multiple people access hotels on a daily basis. Therefore, we train our guards scrupulously to keep them highly vigilant, flexible and robust. Power training, rapid decision-making training, intellectual development programs, first responder awareness programs, etc., are some of the mandatory training sessions for the guards. Hence, our guards possess the ability to identify impending danger and can act accordingly in times of need.
Needless to mention, we are an immensely process-driven firm and proceed to render security service only after a thorough analysis of the premise.  For this reason, our security experts primarily visit the assigned hotel or guesthouse to scrutinize the area, mark the sensitive spots and structure a robust security plan for the premise to provide an absolute hotel security guard  in Palos Verdes & Redondo Beach, CA. service facility. Above and beyond, to ensure there is no room for error only BSIS certified, experienced and trained guards are deployed to the client site. This is one of the reasons why we have been marked as the most preferred and highly professional security guard company in Palos Verdes & Redondo Beach, CA.
Moreover, to ensure your hotel premise is safe and secure from all sorts of uncertain danger, we use state-of-the-art technology.  For instance – biometrics, CCTV cameras, radio transmitters, alarm systems, mobile devices, scanning machines, metal detectors, automatic sanitizers, infrared thermometers, etc., are used by our hotel security guards to provide flawless service.
Most importantly, customer satisfaction has always been our top priority and therefore personalization option is offered to all clients/hotel security management so that they can incorporate or discard security feautures as per their needs and preferences.
Therefore, if you are in search of a highly professional security guard company in Palos Verdes & Redondo Beach, CA for absolute hotel security then gets in touch with us today.
Contact Access Patrol Services at 866-770-0004 with questions about security guard duties, responsibilities and functions for commercial office properties in California and Arizona or click on https://accesspatrolservice.com