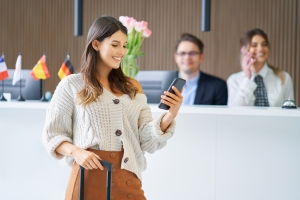 Any luxury hotel irrespective of its size requires a well-established security arrangement for its guests. Most importantly, it should be very safe and secure for celebrities.
Our company, Access Patrol Services (APS) is one of the most renowned security guard service providers in California that exactly knows and respects the fact that a hotel's success is dependent on its security arrangements for celebrities. We respect such importance given to this job and therefore, we keep no stone unturned in making every corner of the hotel safe and secured for celebrities from all fields.
Here are the top 3 reasons why APS is the most preferred hotel security guard service provider in Hollywood & West Hollywood, CA for celebrities:
Celebrity visit planning: Any celebrity, be it a film star, a sportsperson or an author grabs eyeballs and makes everyone feel excited. It is obvious that fans, stalkers and people around would try to get a glimpse of the celebrity. In fact, there are fans that are ready to go to any extent to get a selfie with their favorite celebrity. This is where APS's BSIS hotel security guards come into play. Our guards are specialists in ensuring that the privacy of the celebrities remains intact. Our supervisors chalk out a plan in coordination with the hotel manager before a planned celebrity visit that includes crowd management, media management, identity checks and CCTV camera monitoring of celebrity movement. We believe in best planning and better implementation.
High end bashes: A luxury hotel is a hub for high class parties and bashes. These bashes have a guest list that comprises VIPs and often we have seen these are late night glamorous parties where the adrenaline rush is high. In order to avoid any brawls and misconduct APS' robust security guards are always on their toes. We make sure that there is absolutely no breach of security and check every guest physically with the help of a frisking machine and metal detectors at the entry gate and allow them only after verifying their entry cards.
Safer environment for stars: There is a lot that goes into planning for a proper celebrity hotel stay. Right from checking who has access to their room, who are the people staying on the same floor where the celebrity room is booked to checking fire escapes plans, our  ensure a warm, safe and very secured environment for celebrities.
Besides these 3 reasons, we a make special protection plan for celebrity belongings. So if you are looking for a high grade security guard services especially for celebrities at affordable rates, get in touch with us today. We are undoubtedly the most preferred hotel security guard service provider in Hollywood & West Hollywood, CA. 
Contact Access Patrol Services at 866-770-0004 with questions about security guard duties, responsibilities and functions for commercial office properties in California and Arizona or click on https://accesspatrolservice.com