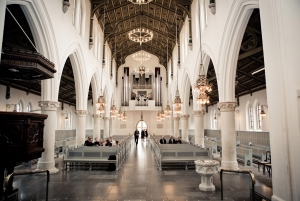 Houses of worship around the country are adding security guards and other security measures to keep their congregations safe.
All Faiths Seeking Security Help. Just about every faith has been affected by violence or vandalism.
FBI hate crime statistics show that in 2021, 1,590 hate crimes relating to religion were reported. Of those, the majority (51.4 percent) were anti-Jewish incidents followed by anti-Sikh, anti-Islamic, anti-Catholic and anti-Eastern Orthodox hate crimes.
Security Guards Provide Peace-of-Mind. A decade or so back, no one would think of hiring security guards to protect a congregation from violence or to prevent vandalism. Houses of worship were seen as peaceful sanctuaries. Now, they are seeking out the help of security guard companies to assign guards to patrol during worship services and special events. Guards are also assigned at night to prevent criminals from destroying or defacing property.
Security cameras are more common with around-the-clock monitoring capabilities. Camera feeds are reviewed by security officers in real-time. If something seems out of place, the officers call the security guard on duty or nearby or law enforcement.
Access Patrol Services (APS) is has been protecting houses of worship for almost 30 years.  All security guards are licensed and can be armed or unarmed.
For more information about houses of worship security services, call Access Patrol Services at 866-770-0004 or click on https://accesspatrolservice.com.