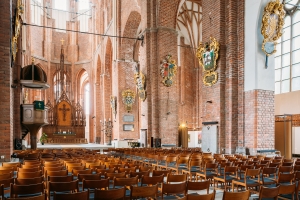 Over the last few years, we've seen a disturbing number of crimes at houses of worship. Stories of violent attacks, hate crimes and theft are common. This year, a Los Angeles synagogue was vandalized. In another incident, a thief stole a hearse from a church in Pasadena, California. Two women were caught on camera stealing from a church in Anaheim.
It's difficult for the police to identify offenders even when reviewing feeds from security cameras positioned throughout the property. Professional and experienced security guards should be considered for church, synagogue, mosque and temple properties. The security guard firm will conduct a thorough analysis of the security issues before employing security services.
Access Patrol Services (APS) is a well-known security guard company in Pasadena and throughout Southern California, which provides highly professional and qualified security guards. APS security guards are specially trained to analyze each location and provide a sound security plan. All guards are BSIS licensed.
APS couples the latest security technology with its onsite guards. The firm installs CCTV cameras strategically around the property. They are monitored 24/7 by offsite personnel. If suspicious activity is taking place, dispatch contacts property guards for immediate response.
Around-the-clock service ensures safety of a sacred space. Contact Access Patrol Services at 866-770-0004 with questions about security guard duties, responsibilities and functions for houses of worship in Pasadena and throughout California and Arizona or Contact us.