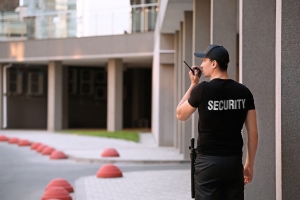 It is imperative to feel safe to carry out daily life activities. But with the recent rise in crime numbers, it seems impossible to retain peace of mind. Therefore, we Access Patrol Services (APS) provide top class security protection to clients to ensure they stay safe and have a complete sense of protection.
APS holds extensive experience of over 25 years in the field of security service. And over the years, our company has garnered a tremendous amount of goodwill in the market due to our excellent and highly professional security service delivery. We focus on retaining goodwill and hence we constantly thrive to upgrade our strategies and technologies with the changing time.
Most importantly, we only employ experienced and BSIS licensed security guards company in El Rio & Camarillo, CA. in our organization to render high-quality services. Besides, our guards are given training on several critical security aspects. Some of the training session includes power drills, fire drills, crowd control management, first responder awareness programs, intellectual development programs etc. Hence, our guards are highly reliable protectors whom you can trust for robust security protection.
Also, since APS is committed to delivering accurate services, so many advanced technologies such as CCTV cameras, radio transmitters, GPS monitoring systems, flashlights, audio deterrent services, scanning machines, metal detectors and many more are used by our guards for rendering flawless security services. This is also one of the reasons why APS is considered the most professional security guard company in El Rio & Camarillo, CA.
Apart from this, being a client-centric firm we provide the opportunity to the client to select security features as per their needs and requirements. Therefore, clients have the liberty to formulate security plan as per their preferences. Moreover, a 24hour service facility is also provided to clients with fully armed and unarmed guards. Plus, foot patrol and vehicle patrol services are also provided for extra security protection.
Honestly, since our guards are experienced, they have a deep understanding of the client's security needs and also possess the ability to identify impending dangers. Thus, we can strongly claim that our guards are immensely professional, robust and efficient to tackle difficult and challenging situations in a proficient manner.
Therefore, if you are searching for a professional security guard company in El Rio & Camarillo, CA for licensed security guards for complete security protection, then get in touch with us for the same. 100% guaranteed highly professional security service will be provided to you at an affordable rate.
Contact Access Patrol Services at 866-770-0004 with questions about security guard duties, responsibilities and functions for commercial office properties in California and Arizona or click on https://accesspatrolservice.com