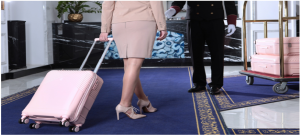 A company's lobby serves more purposes than just welcoming visitors. It's a setting that creates a lasting impact and paves the way for the customers to build a solid relationship with your firm in the future. Moreover, a well-designed and maintained lobby exudes sophistication and professionalism. The protection of your clients and staff, however, is something you should take seriously. Hence it pays to hire Lobby Security Service in Mission Hills that welcomes visitors.
The experts at Access Patrol Services strongly recommend hiring professional lobby security for your facility. A lobby security guard significantly improves the building's safety and efficient business operations. Both customers and employees enter the facility through the lobby, so it needs to be well-managed and carefully monitored.
Continue reading the article to understand the importance of hiring a Lobby Security Service in Mission Hills.
Increased Safety in the Facility
According to the general notion, security should always begin at the entrances and exits of a building. The rest forms the foundation. Yet, if a solid foundation fails to exist, it leaves room for several security lapses.
Maintaining proper access control and guest management is necessary. An office building's size and complexity can provide vandals and trespassers ample opportunity to do damage or cause harm before being caught and arrested. Also, it can be pretty upsetting for the employees to learn that their workplace lacks security and is vulnerable to danger.
Therefore, hiring  lobby security guard at the facility's entrance eliminates any possible danger to a significant extent.
Improved surveillance
The security guard will remain vigilant on your security camera screens, visitor management, and access control. They will constantly keep a close eye on the entire structure. Let's say the front desk staff is in charge of this task. Then, because they would often be preoccupied with their usual duties, they might need help to focus on the camera screens effectively. Furthermore, because they lack specialized training as security guards, they may overlook suspicious activity even when watching the screens.
Internal problems
Finally, a security guard addresses internal threats within the facility and protects your clients and staff from external threats. In addition to the lobby, office security is a crucial issue for a business. Whether it is a dispute between co-workers or problems from personal lives entering the workplace, one cannot overlook the possibilities of internal conflicts. A security guard will take steps to subside the situation and end the conflicts.
Securing your lobby is crucial for your company's efficient operation since it's your office's most vulnerable area. Contact Access Patrol Services at 866-770-0004 with your questions. For more details, click on https://accesspatrolservice.com.