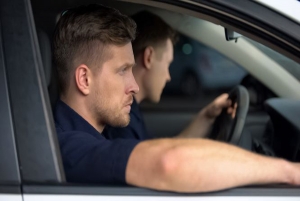 Security guards are often tasked with patrolling large areas—parking lot/garages, outdoor events, business and medical campuses, manufacturing sites and schools.  Mobile security patrols, in marked vehicles or on bicycles, enable guards to respond quickly and efficiently if a security issue occurs.
Guard companies in California and Arizona such as Access Patrol Services require guards in mobile units to move throughout a site and check-in at certain points using GPS technology. That way, staff at a central off-site location can monitor guard movement to ensure all areas of the location are being serviced.
Need For Mobile And Foot Patrols. In many cases, a site will require a combination of mobile and foot patrols. An event, for example, may need foot patrols inside the event to prevent illegal or unruly behavior while also needing mobile units to patrol the parking lot or structure.
Monitoring Neighborhoods. Mobile security patrols are often used in gated communities to provide regular, around the clock neighborhood protection. These patrols look for suspicious activity and dangerous situations in public areas and around private residences.
Mobile security patrols offer a constant, visible onsite presence. For more information about mobile security guard services throughout California and Arizona, call Access Patrol Services at 866-770-0004 or click on https://accesspatrolservice.com.