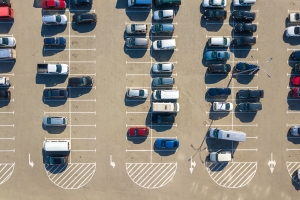 Get robust parking lot security by picking a prominent security guard company in Redwood City & Garey, CA
It is appalling that on average more than 50,000 car accidents take place in parking spaces. Apart from accidents, parking lots are also prone to crimes like thefts, robberies, and murders. So, arranging robust parking lot security is essential to protect parking areas from uncertain threats.
We, Access Patrol Services (APS) are a prominent security guard company in Redwood City & Garey, CA that renders hi-end security solutions to parking lots with the help of advanced technologies. Also, the guards of APS are BSIS certified and are technologically sound individual. Besides, we train our guards rigorously to enhance their existing skills. Therefore, our guards are capable of handling any kind of critical situation. They have the ability to quickly identify impending danger and thus can act accordingly to provide accurate security solutions to prevent crimes from occurring in parking areas.
Besides, our rich experience of around 25 years in this field has made us highly capable to provide immaculate security service. We do understand that the parking lot requires highly vigilant security guards to provide robust protection to the place. Therefore, we first formulate a robust security model based on each parking lot and thereafter deploy the right number of armed and unarmed security guards.
The main responsibility of our security guards is to patrol the entire perimeter of the parking lot to ensure the area is free from suspicious activities. Besides, they strictly enforce parking lot guidelines to the car drivers. In addition to this, they help or guide the car drivers to find the right spot to park their car. Consequently, they ensure that no car is parked in the prohibited areas in the parking zone.
Moreover, the guards of APS use gadgets like radio transmitters, CCTV cameras, GPS monitoring systems, mobile devices, flashlights, etc., to provide complete protection to the parking area.
Most importantly, APS values and respects the needs and preferences of customers. So, we provide a full customization facility to all clients so that they can choose or add security riders as per their suitability.  Lastly, we also have a short-term contract facility so that clients can cancel the contact at any point if not satisfied with our service quality. However, that is rare to happen.
Therefore, if you are someone looking for robust parking lot security guard company in Redwood City & Garey, CA, then APS is a prominent security guard company in Redwood City & Garey, CA that you can consider.
Contact Access Patrol Services at 866-770-0004 with questions about security guard duties, responsibilities and functions for commercial office properties in California and Arizona or click on https://accesspatrolservice.com