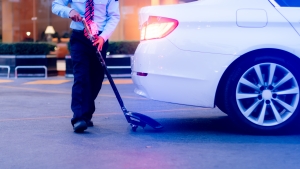 For protecting your parking lot, trust the best security guard company in Rio Linda & Placerville, CA
Irrefutably, parking lot security is complex.  And, many security agencies fall short to provide the absolute security solution to parking areas. Consequently, these places are often targeted for thefts and vandalism due to lack of enough or resilient security service.
Now the fact is convicts don't always target to steal the whole vehicle, instead they mostly attempt to pull out expensive parts like tailgates, batteries, stereo systems etc from the car. And, for them it is easier to carry out these activities, if proper security service is not present in the parking area. So, to protect parking areas from such crimes, it is essential to consider top rated security service from a reliable source.
For over 25 years, our organization, Access Patrol Services (APS) has been catering immaculate security service to large as well as small parking lots. Our errorless security service delivery makes us stand apart from any other security agency. We understand that every parking area has a divergent set of security needs so we formulate a different security model for each and every parking lot. This helps the guards to address the security needs of the assigned parking lot more specifically. Moreover, all our guards are BSIS certified and highly skilled. We do not entertain any uncertified guards in our organization. So, you can trust us fully as we are the finest security guard company in Rio Linda & Placerville, CA which can provide absolute parking lot security protection.
Our parking lot security guards company in Rio Linda & Placerville, CA are trained individuals who make sure that the entire parking area is safe and secure all the time. For ensuring this, the guards remain highly vigilant and patrol each and every corner of the parking lot to check that there is no suspicious activity piling up in the parking zone. However, if they notice anything suspicious, they rapidly take strong action to safeguard the parking lot. Hence, our parking lot guards are not only vigilant individuals but are also quick decision-maker who can provide robust protection to any parking area.
Besides, our parking lot security guards also help the drivers to park their cars safely. They also assist the drivers to find the right spot for parking. Hence, our guards are extremely observant and professional individuals who strictly enforce parking lot guidelines to every driver entering the parking zone.
In addition, we allocate an appropriate mix of armed, unarmed, fixed and mobile guards to provide the complete security solution to parking lots. Moreover, various kinds so advanced technologies are used by our guards to provide seamless security service such as CCTV cameras, radio transmitters, GPS monitoring systems, flashlights etc. Honestly, all our guards are trained to actively respond to any adverse situation in the parking area.
Therefore, if you are searching for robust security for a parking lot, then contact our security guard company in Rio Linda & Placerville, CA. 100 % quality service will be delivered to your parking area.
Contact Access Patrol Services at 866-770-0004 with questions about security guard duties, responsibilities and functions for commercial office properties in California and Arizona or click on https://accesspatrolservice.com