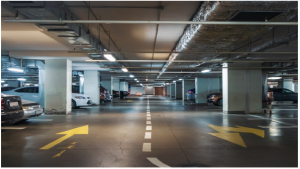 Theft and vandalism in the parking areas increased manifold in the past two years. This is primarily due to the lack of security personnel to monitor the area. Slashed tires and smashed windows are becoming the norm.  Hence, escalating security service in parking lots has become mandatory to ensure parking spaces and the surrounding areas are secured.
Access Patrol Services (APS) is a professional security guard company in Baldwin Park & El Monte, CA that thrives to provide impeccable security protection to parking spaces. It has over 26 years of experience in the field of the security domain. And due to such a humongous amount of experience, it has the ability to address all types of security threats.  Being a process-driven company, APS prepares a robust security plan before rendering security service to the assigned parking lot. This plan is structured to address all the critical areas of the parking lot. Once the plan is chalked out, an adequate number of parking lot security guards Baldwin Park & El Monte, CA are allocated and positioned carefully in each and every corner of the parking space to provide full security protection.
Most importantly, all the allocated guards are BSIS certified. Besides, to boost the skills of the security guards, APS arranges frequent training sessions for the guards. The train sessions comprise rapid decision-making programs, intellectual development programs, power drills, first responder awareness programs and many more.  These training sessions help the guards to stay robust, vigilant, agile and professional.
Also, APS guards take immense pride in their service.  Hence, to keep the assigned premise free from crimes, the guards patrol the entire parking space frequently to eliminate wary activities. Also, they take the initiative to help the car drives to find the right spot for parking. The guards also make sure that all the car drivers must follow the guidelines of the parking area.  Plus, the guards ensure that no car is parked in the prohibited areas of the parking lot.  Hence, APS guards are highly efficient and stay super active to maintain the decorum of the parking lot.
Moreover, advanced gadgets such as CCTV caners, GPS monitoring systems, radio transmitters, cloud software, audio deterrent devices etc., and many more are used by the parking lot security guards of APS for errorless security service delivery.
Therefore, if you are looking out for a professional security guard company Baldwin Park & El Monte, CA for parking lot security then, get in touch with APS for the same.
Contact Access Patrol Services at 866-770-0004 with questions about security guard duties, responsibilities and functions for commercial office properties in California and Arizona or click on https://accesspatrolservice.com