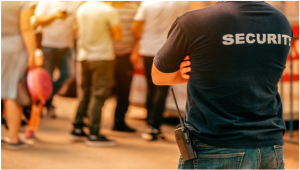 It is essential to emphasise the importance of having stringent parking lot security protection to abate violent crimes.  As per a recent survey, every 23 seconds, a car gets stolen. Moreover, 1 in 10 property crimes takes place in parking areas.   And, $6B property loss is associated with such parking lot crimes. The fact is with poor lighting, designs and blind spots; parking lots are apt zones for convicts to commit crimes. Undeniably parking lots are turning into breeding grounds for convicts. Therefore, effective security planning is one of the best ways to protect parking spaces.
Access Patrol Services (APS) is a premier security company in Berkley & San Pablo, CA that has been in the security business for over 26 years and, owing to such experience, the company is adept at providing accurate security solutions for parking premises. APS recognize that haphazardly parked cars at parking lots can impede the distribution of lighting which can form space for convicts to commit crimes or for hiding. Therefore, APS deploys a mix of security guards consisting of armed, unarmed, static and mobile guards.  Mobile guards are assigned to continuously patrol the parking areas to identify and prevent suspicious activities. Some of the guards are deployed at the entry and exit areas of the parking space and specifically at the blind spots of the parking area that needs special security attention.  Note that, all the guards of APS deploy only BSIS-certified security guards. Besides, these guards are frequently provided training to keep their skills intact.  Some of the training sessions comprise power drills, rapid decision-making programs, intellect development programs and many more. The parking lot security guards of APS ensure that all the car owners or drivers park their car properly and doesn't park in prohibited areas in the parking zones. These guards also help to maintain the speed limit of the car inside the parking premise to eliminate accidents. Moreover, APS's parking lot security guards use many advanced security gadgets for rendering high-quality parking lot security. Some of the security gadgets include CCTV cameras, radio transmitters, GPS monitoring systems, flashlights, scanning machines, metal detectors and many more.
Therefore, if you are searching for a highly professional or premier security company in Berkley & San Pablo, CA then get in touch with us ASAP.
Contact Access Patrol Services at 866-770-0004 with questions about security guard duties, responsibilities and functions for commercial office properties in California and Arizona or click on https://accesspatrolservice.com