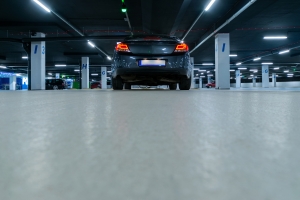 To ensure total protection of parking lots choose a professional security guard company in Tarzana & San Jose, CA
Poor lighting, pitiable security, and defectively designed layout with blind spots are some of the reasons parking lots turn into a breeding ground for convicts.  So, proper security surveillance is amply required in parking lots to deter thefts, vandalism, and other criminal activities.
We, Access Patrol Services (APS) are a professional security guard company in Tarzana & San Jose, CA that provides absolute security protection to parking lots.  We have a team of expert security specialists and robust guards who are specially trained to render security services, especially to parking areas.  They all are BSIS certified and so only skilled guards are placed at the parking garages. Besides, all our guards are experienced security personnel and thus possess substantial knowledge about various security aspects of parking lots.  Not only this, but we also provide training to them on a routine basis to keep them updated and efficient.
The key responsibilities of our parking lot guards are:
To patrol the parking area frequently to ensure the premises is safe from criminal activities.
To enforce parking guidelines to the car drivers and ensure that no car is parked in the prohibited zone.
To help and direct the drivers to find the right spot for parking.
To check the boot space of the car to ensure no explosives or suspicious stuff is present.
Moreover, our guards are a highly equipped with modern technologies like radio transmitters, metal detectors, and CCTV cameras; GPS monitoring systems, mobile devices, etc. Therefore, our parking lot guards company in Tarzana & San Jose, CA are undoubtedly highly efficient to deliver superior quality security service.
The fact is we are highly process-driven firm, and so our service standard is quite high than any other security service provider. We don't tolerate unprofessionalism and thus strictly instill a "zero tolerance to unprofessionalism" policy to our guards. Therefore, you will always find our guards highly professional and active. Moreover, we respect our customer's needs and preferences and thus provide a personalization option so that they can select security specifications as per their suitability.
Besides, since our organization is committed and dedicated to providing accurate security facilities, our specialist first visits the assigned parking lot before providing security service. This is done to calculate the risk percentage associated with the parking area. Thereafter, a comprehensive security plan is chalked out keeping all the critical points of the assigned premise. And only after this process is completed, an appropriate number of parking lot guards are deployed at the parking lots for providing complete protection.
Therefore, if you are searching for a highly professional security guard company in Tarzana & San Jose, CA then get in touch with us ASAP.
Contact Access Patrol Services at 866-770-0004 with questions about security guard duties, responsibilities and functions for commercial office properties in California and Arizona or click on https://accesspatrolservice.com