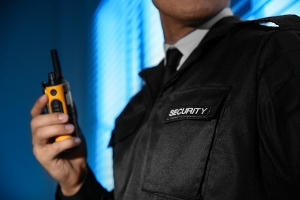 Now is the time to plan for your 2022 business' security needs, says Access Patrol Services (APS), a security guard company serving California and Arizona.
"The last several years have shown that security is playing an increasingly important role in the daily operations of most businesses," says Fahim Abid,  APS security director. "If anything, that role will become even more crucial in 2022."
Latest statistics show violent crime was up 7.8 percent in 2020 over 2019 in the U.S. according to the FBI. Victims of property crime lost an estimated $17.5 billion.
Workforce violence is near pre-pandemic levels as employees are returning to offices and other places of business. According to OSHA, about 2 million American workers are victims of workplace violence each year. Some acts lead to death. In May 2021, for example, a gunman killed nine of his co-workers at a rail yard in San Jose, California. According to an HSB Small Business Survey conducted in 2021 by Zogby Analytics, 34 percent of small and mid-size businesses that responded had "experienced at least one serious employee threat or violent incident."
"News of violence in the workplace, violent and brash robberies and assaults at retailers and restaurants are reported daily," says Abid. "To best protect your business and its workers, the start of a new year is a good time to undertake a security assessment and make adjustments when necessary."
Workplace violence prevention tips include training employees to recognize warning signs and create a safe reporting process. "There should be a zero-tolerance policy for unacceptable behavior," says Abid. He says entrances to buildings should be staffed with security guards to prevent unauthorized individuals from entering. "Guards and other security measures should be in place so a disgruntled ex-employee can't return to do harm. Emergency exit drills and active shooter training are also critical."
Abid suggests reviewing how well the business is preventing property crime including break-ins, vandalism and employee theft. "Talk with law enforcement to find out what kind of criminal activity is taking place in your area," suggests Abid. "Stay informed. The pandemic has brought more criminal acts against workers. Are you doing everything you can to keep your workers safe?"
Prevention steps may mean adding additional security cameras with 24-hour monitoring, extra exterior lighting and security guards positioned onsite throughout the day and evening hours.
Other security options include fencing around the property and upgrading alarm systems.
"Security guards are your best crime deterrent. Cameras can only do so much if they are not monitored in real-time and a security officer is not on site to immediately respond to illegal activity. Security alarms have limitations too. After an alarm is triggered, a criminal may be long gone before security personnel arrives," notes Abid.
"Strong security measures won't generate revenue, but they can prevent loss, which will help your bottom line," says Abid.
Contact Access Patrol Services at 866-770-0004 with questions about security measures for commercial and retail businesses in California and Arizona or click on https://accesspatrolservice.com/.
About Access Patrol Services
Whether security is needed at an event, retail outlet, warehouse, commercial office building, medical facility or any number of other locations, Access Patrol Services uniformed security guards are on the job to keep people and places safe, to spot and respond to inappropriate behavior and provide assistance in case of emergency. Serving clients in California and Arizona, Access Patrol Services staff works with clients to analyze a location's security issues. Staff then develops a custom plan to fit the client's security needs. Our uniformed security guards are trained and licensed to deter crime, diffuse volatile situations, take the lead during emergencies, conduct security screenings, enforce rules and control access. 866-770-0004  https://accesspatrolservice.com/.