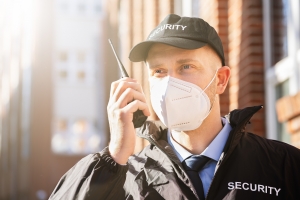 Peace of mind comes with the feeling of being safe and secured. But, in today's uncertain time, retaining peace of mind has become extremely gruelling. Murders, thefts, robberies, extortions are happening every now and then. And in this taxing situation, the only way to live peacefully is by getting robust security protection for ourselves.
But, with numerous security guard companies present in the market, picking the right one from them is a tricky task. However, by conducting thorough due diligence, one can opt for the safest option. But if you don't want to go through such a hectic process then choosing a veteran security guard company like Access Control Security (ACS) can be a reliable option.
ACS has been in the security industry since 1992 and thus holds colossal experience to serve clients with the best quality security service facilities. The fact is ACS has the knowledge, experience and state-of-the -art technologies to deliver premium quality service facilities to clients. ACS takes deep pride in its service quality and hence don't compromise on clients' safety at any cost.
Only BSIS certified guards are hired in ACS and so each and every security guard are a qualified security individual. Also, frequent training sessions are conducted for the security guards to enhance the existing skills. Power training, intellectual enhancement training, crowd control management; rapid decision-making programs are some of the mandatory training sessions that are must for the security guards of ACS.
Moreover, since ACS deeply beholds the importance of technology in the security service industry, they provide their guards with best of advanced technologies. For instance – CCTV cameras, GPS monitoring systems, radio transmitters, scanning machines, biometrics and metal detectors, etc., are essentially used by the security guards of ACS to ensure robust protection to clients and their property. This is the reason why APS has been marked as one of the most preferred private security companies in Pomona for more than 25 years.
Apart from this, another unique aspect of ACS is, it follows its own unique method to provide safety to its client.ACS expert primarily visits the assigned premise to conduct a thorough analysis of the premise and thereafter structures a comprehensive security model based on the analysis. Once the security model is formulated, an appropriate number of security guards are allocated to the client's premise to provide absolute security protection.
Moreover, ACS offers round the clock service facility to address any urgent security needs of the clients. Also, foot patrol service and vehicle patrol service is provided to the client for absolute security cover.
Additionally, a customization facility plus a short term contract facility is also offered to all clients to meet their needs and preferences. Therefore, if you are searching for one of the most professional private security companies in Pomona, then get in touch with ACS ASAP.
To request a quote for store and business protection and other security guard services in California and Arizona, give Access Control Security a call at 877-482-7324 or go to http://accesscontrolsecurity.com/quote-request to get a quote.