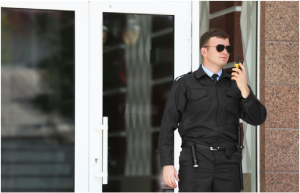 Banks are among the most critical sectors of the economy and of our daily life. Banks are accountable for the safety of their client's money and accounts, including those of private individuals and small businesses.
Private security guards are necessary as part of this security endeavour. Using private security for employee and client protection is crucial to deter crime and provide the finest service possible.
Here are three reasons why banks hire private security guards in Los Angeles
Consumers Value Security
Banks must preserve their customers' sense of security and comfort to continue providing their services. Customers may use the services of another bank if they believe they are unsafe or that their money is not secure in your establishment. Customers like the peace of mind that private security guards in Los Angeles provide. One of the reasons customers will continue to use your bank for many years is the knowledge that they may access it safely and securely and perform their transactions without fear.
Maintaining Order
A private security guard will maintain the bank's order. Having that strong presence will ensure that clients are on guard when they enter and maintain their composure while waiting for their transaction.
Customers may, at times, enter the bank aggressively and create chaos. As a result, they might feel mistreated or need to act out in the presence of other clientele to harm the bank's reputation. This conduct is discouraged and minimised when private security guards are stationed nearby.
Potential robberies and thefts, which are frequent in banks, are deterred in addition to aggressive customers. Contrary to popular belief, most bank robberies target establishments without private security officers on duty, not the other way around. Robberies aim to enter and exit as soon as possible, but having a private security guard around bogs down that process.
Protection for Large Deliveries
Each week, banks must place orders for new bills and coins. There needs to be additional security during this delivery, and bankers are moving this money between the vault and their offices. Since most vaults are visible from the lobby, people are less likely to try a crime while security is present because they can see inside the vault.
To further ensure that there is no outside influence and that all cash is delivered correctly, you might have your private security monitor the delivery.
Contact Access Patrol Services at 866-770-0004. For more details, click on https://accesspatrolservice.com.